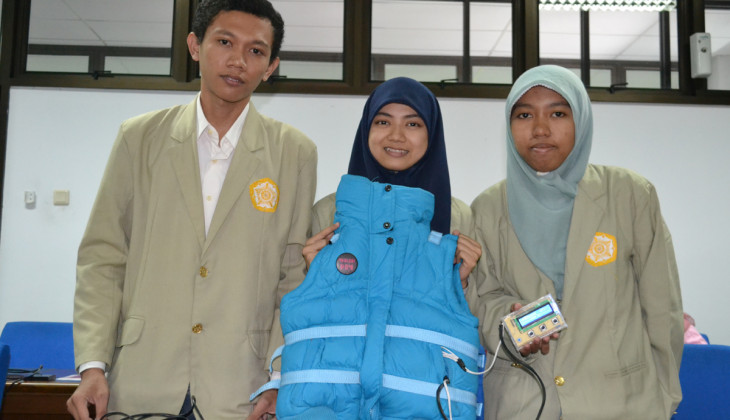 YOGYAKARTA – Students of Universitas Gadjah Mada have designed a vest that can do massaging. It is made from parachute fabric, having eight trigger points that can mechanically vibrate. Each unit is equipped with six infra rays for back muscle relaxation. A control unit in the frontside regulates the speed of vibrations up to 900 rpm. "It weighs 1 kilogram, using lithium battery of 9,7 Volts." said the student of Mechanical Engineering UGM class of 2010, Aris Prayitno, on Friday (7/6).
Aris said the vest incorporates engineering, science and medicine knowledges to produce portable health product to treat muscle stiffness. It does not take long to operate the tool. "It can be used for 20-30 minutes," Aris said.
Aris said that he needed up to 4 months to develop the vest. He found it difficult to get a vibrating motor for the vest. Fortunately, he had a used playstation stick that can do the job. He used reflection massage mat as massaging unit.
The vest is practical, portable and safe, costing Rp2 millions. It uses DC current with 9,7 Volts of batteries. "We have consulted our lecturers; it does not cause shocks," he said.
The other students are Syifa Salma and Hilma Tsurayya from Faculty of Medicine, and one student of Electronics and Instrumentation in Vocational School, Agus Budiman.
Syifa Salma said the decision to locate the massaging unit was based on the positions of nerves, muscles and veins on the back. The infrared will create a warm sensation, loosening the collagen tissues and triggering endorphines to reduce pain. "The pain on the back is due to the buildup of lactic acid, if this can be broken down, pain will reduce," she said.