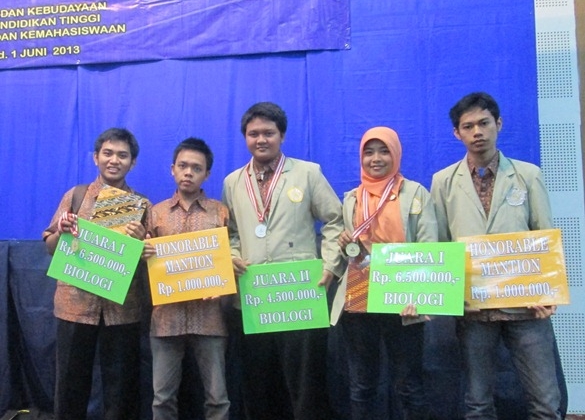 UGM Earns Medals in ON MIPA-PT 2013
Once again, UGM made an outstanding achievement in the national competition, National Mathematics and Natural Sciences Olympiad (ON MIPA-PT) 2013 from 29 May-1 June 2013 in Inna Garuda Hotel Yogyakarta. Six students were participating, including Astia Rizki Safitri, Abrory Agus Cahya Pramana, Matin Nuhamunada, Rudi Nirwantono, Ali Muharom and Ahmad Sukron.
The team from Biology UGM earned 2 gold medals (Astia Rizki Safitri and Rudi Nirwantono), 1 silver medal for Matin Nuhamunada and 2 Honorable Mention for Ali Muharom (Biology) and Ahmad Sukron (Agriculture).
"I think the ability to pass selection up to the Olympiad is evidence that we have excellent quality," said Rudi Nirwantono on Wednesday (12/6).
The Biology student class of 2010 said they beat 63 other teams from 26 universities in Indonesia in the final round. They had to do essays on genetics, biology cell and molecular, plants and animals, microbiology, ecology and etology.
"It was quite difficult as the analysis had to be in-depth," Rudi said.
ON MIPA-PT 2013 is joined by as many as 3,279 students. The UGM success this time is a repeat of the previous years in 2011 and 2012.