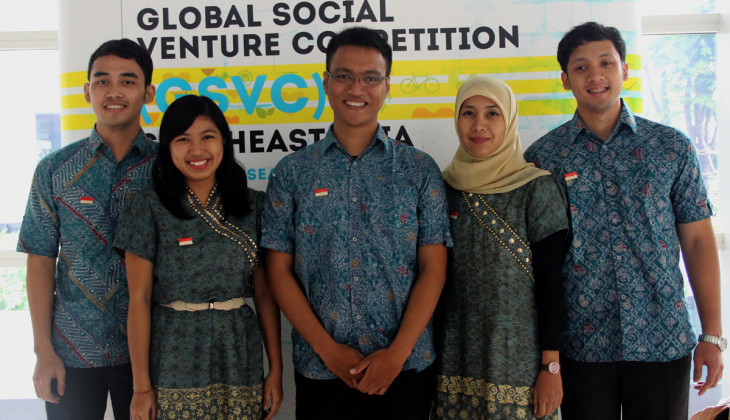 YOGYAKARTA – Students of MM UGM have made achievements in an international business competition called Global Social Venture Competition –South East Asia Final (GSVC) run by IMBA Program, Thammasat Business School, Bangkok, Thailand. The team, Bamboo Team, that has five members: Yodhi Kharismanto, Luh Putu Rina Maharani, Mega Aisyah Nirmala, Putu Ngurah Indra Perdana and Yosep Andy, has made to the final in Bangkok, Thailand, from 8-10 March 2013. As many as 11 finalists were competing to be able to go through to the GSVC in Berkeley, the U. S.
The Bamboo Team was the first team to present their business idea, Lexipal. Although it was positively appreciated by the panel of jury and other teams, but the Bamboo Team has not been able to pass as the one that will represent South East Asia to the GSVC Global Finals in Berkeley. Bamboo Team has earned The Best Video Performance based on the highest number of 'like' in Youtube and jury's assesment.

Yodhi Kharismanto expressed his happiness in being able to compete in the GSVC as they had new experiences in the international competition.
According to the man born in Jakarta, 23 years ago, the GSVC this time competes on social venture. Their idea, LexiPal, is a software that helps dyslexic children to resolve their problem. The software helps them in learning and understand something. What differentiates LexiPal was that it uses motion and 3D, so treatment processes are not monotonous. "We've seen that handling of dyslexic students usually use cards and books which make them bored. LexiPal came as a software that is fun, attractive and effective," he said.
Meanwhile, those that won the Best Video Performance is awarded some USD 500 in prize.

According to Director of MM UGM Prof. Dr. Lincolin Arsyad, the win as the Best Video Performance is a step forward as in last year, the MM UGM team only came as a finalist.