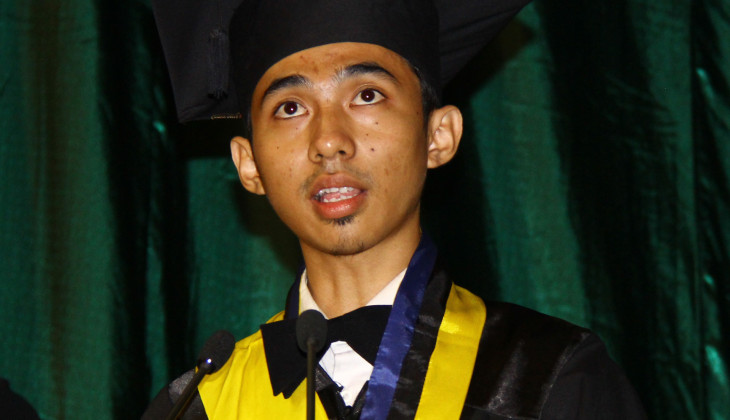 YOGYAKARTA – Universitas Gadjah Mada has inaugurated as many as 1,716 graduates from undergraduate programme on Tuesday (27/8). Of all the graduates, Aditya Riski Taufani from Civil Engineering study programme in Faculty of Engineering is the only one that has earned 4 for his Grade Point Average. No wonder, the man born in Semarang, 21 years ago, is asked to give a speech representing other graduates.
The son of Suharno and Agustiati said his graduation is credited to his lecturers, staff and other institutions that had provided scholarships for him.
He said, however, achievements are not seen from someone's GPA. He said everyone could make achievements as long as they know their own potential and development for society's interest. "Now we reach an era of meritocracy where our achievement is determined by ourselves, not our parents, colleagues or regions," he added.
He further asked other graduates to contribute to state development amidst the lack of integrity issue. In his opinion, integrity does not only mean being honest but also upholding truth, which "is a rare commodity in the lives of the state and the nation," said the man who completed his study in 3 years and 10 months.
As children of the nation, said Aditya, the youth have to stop criticising and condemning each other, enlarging nation's weaknesses. "It's clear that no single country is perfect. Let's cast all our pessimism as we are the future of the nation," he said.
Rector of UGM, Prof. Dr. Pratikno, M,Soc., Sc., said he was provoked by Aditya's speech, so that he would not read out his own speech which he had written down before. Pratikno agreed with Aditya that UGM graduates that reach up to 200 thousands have the opportunity to play a role in building the nation. There are, however, nation's problems, i.e. corruption, that have yet to be resolved together.
He said that he continuously reminded graduates to always increase ethics and morality. "As UGM graduates, we have to become a role model, who have to be a reference for Indonesian young people," he said.
This time, the average study time is 4 years and 4 months with the shortest is made by Bella Chyntiara (3 years and 2 months) from Accounting study programme, the youngest graduate (20 years and 1 month old) is Wahyu Kusuma Astuti from Regional and City Planning study programme. The average GPA is 3.30. The number of graduates that passed cum laude is 517 (30.16%).