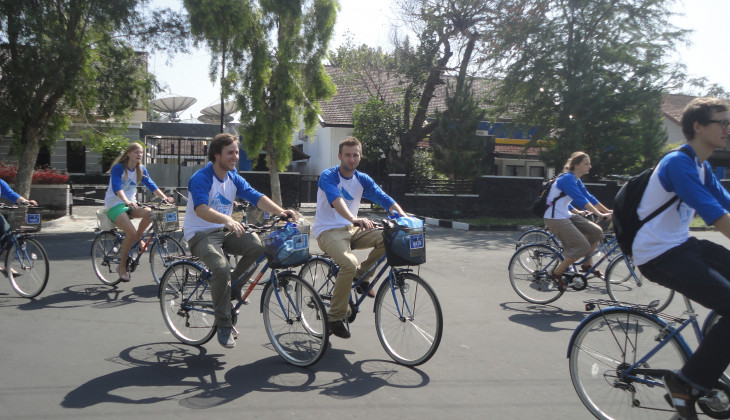 As many as 178 international students are introduced to the UGM campus by cycling around the compound. They passed almost all roads on campus and made a stop at each important unit such as Office of International Affairs, Gadjah Mada Medical Center (GMC), Grha Sabha Pramana, Library, etc, to get briefed.
"We'd like to welcome everyone to our beloved UGM campus. We wish you will all have a pleasant stay in Jogja and have a nice study here," said Vice Rector for Academic and Student Affairs, Prof. dr. Iwan Dwiprahasto, M.Med.Sc., Ph.D, in PKKH UGM, Thursday (5/9).
After the orientation time, Iwan Dwiprahasto expected the students to be able to adjust to and learn the culture of Yogyakarta, also UGM values. "Those are all needed to help you succeed at UGM," he said.
The 178 international students will study here this year. They are undergraduate and exchange students as well as INCULS students. Most are from Europe (the Netherlands, France, Germany), the rest are from Korea, India, China and Japan.
Rio Rini Moehkardi, MA, Head of Sub-Directorate of Internasional Affairs of UGM, said during orientation, the students were getting much information in terms of safety, study permit, living permit, visa, etc.
"These are all our concern, how they can live here safely without too much troubles whilst studying at UGM," said Rio Rini.
Rio Rini further said that after cycling along the campus' roads and stopping at certain offices, the students were given explanation to support their study here.
"Related to their health condition, they know it already that they have to go to the GMC, while on administrative matters to the OIA, etc," she added.