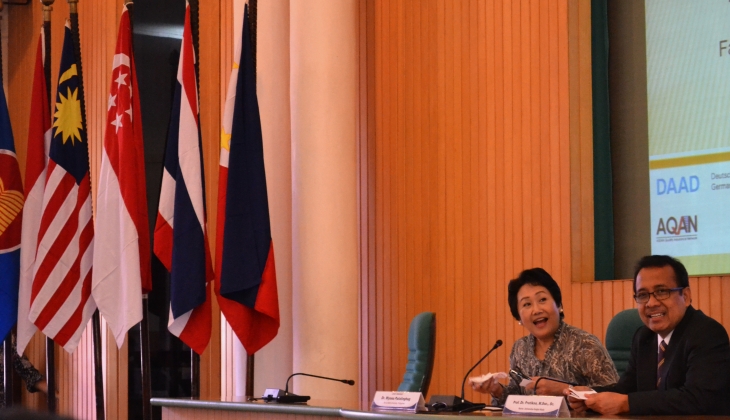 YOGYAKARTA – Communication Studies and Management and Public Policy study programmes in Faculty of Social and Political Sciences (Fisipol) UGM are accredited by ASEAN University Network on Higher Education for Quality Assurance (AUN-QA). UGM joins the network along with 26 universities in Southeast Asia.
Rector of UGM, Prof. Dr. Pratikno, M.Soc.,Sc., said accreditation assessment process by AUN-QA of the two programmes aimed at improving education that is recognised not only nationally, but also regionally and internationally. "We support AUN-QA as a regional accreditation institution," said Pratikno when receiving AUN-QA accreditation assessment team in the multi media room on Wednesday (18/9).

Six other study programmes of UGM have been accredited by AUN-QA. These are doctor's education, Biology, Chemistry, Civil Engineering, Geology Engineering and Pharmacy.

Meanwhile, Chemistry study programme of UGM has been internationally accredited by The Royal Society of Chemistry (RSC) in the UK. Faculty of Economics and Business UGM is attempting to get accredited by Association to Advance Collegiate School of Business (AACSB). "We have the strong commitment to continue increasing education quality, including competence and professionalism in advancing education, research and community service," he said.
Lead Assessor of AUN, Dr. Wyona Patalighung, said UGM is one of 26 universities joining AUN-QA. Since 2007 up to now there have been 40 study programmes being assessed by the AUN, "including 6 study programmes that had been accredited previously," she said.
She added that all study programmes that are applying for AUN-QA accreditation are required to send a self-assessment report. The team will examine this through a visitation to the concerned study programme. "All has to refer to the standard established by the AUN-QA," she said. She also appreciated UGM that has trusted the AUN-QA to do the assessment.