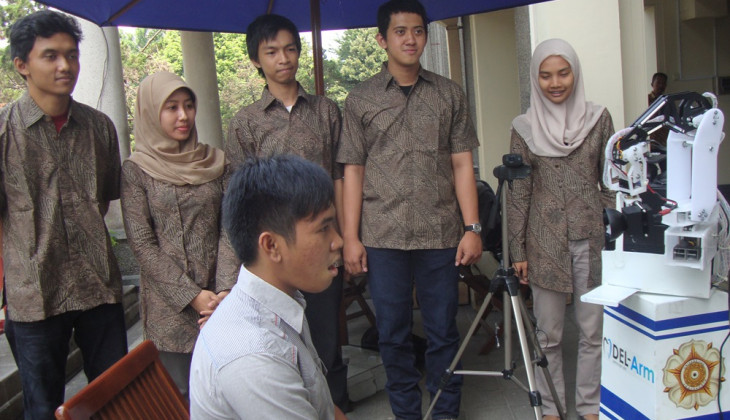 Several UGM students have developed dental light arm (Del-Arm) that can replace a dentist, just by using hand signal. This tool can also minimise infections.
"Until today, dentists have used dental light to light the mouth cavity when examining patient's teeth. They move the light manually, so it is possible to increase cross-infection risks to dentists or patients," said Bekti Nur'aini, member of the developer team on UGM campus recently.
This had driven Bekti and four colleagues, Saprindo Harun Prabantara, Dedhi Fahri Ernawan, and Panca Agung Kusuma, students in Electronics and Instrumentation in Faculty of Maths and Natural Sciences, and Mahadna Aulia Rahmah from Dentists Education study programme to develop dental light in dental chair based on image processing to hand signals. The tool made the student win the gold medal in the National Student Week (PIMNAS) 2013 in Universitas Mataram from 9-13 September.
Dental light arm works using technology progress in manipulator robot engineering and image processing. The robot with six joints is used to help a dentist and automate movements of dental light based on the dentist's hand signal.
"The recignition of hand's moving up and down and right to left uses image processing approach that is collected by the camera, wich is used as an instruction to control the robot arm movement," Dedhi said.
The tool is equipped with pedal focus sub-system that has the function to control movements from the last two end-effectors.
"The product is an integration between hand signal identification sub-system, pedal focus, and arm robot control. Thus, dentists will only need to use a certain hand signal to move the dental light arm without the need to touch the dental light, so it is very useful for dentists in their daily practice," he said.