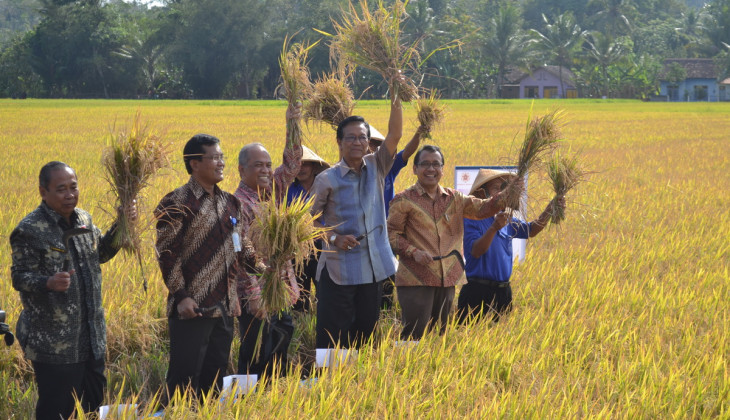 BANTUL – Faculty of Agriculture UGM has used manure waste to increase the productivity of rice. Cattle manure is processed into organic fertilisers that can replace chemical fertilisers. This has increased rice production from an average of 7.5 tonnes per hectare to 9.3 tonnes per hectare in Argorejo village, Sedayu, Bantul regency.

Dean of the Faculty of Agricultural Technology, Prof. Dr. Ir. Ali Agus, said the empowerment programme for farmers worked together with the Bank Mandiri since three months ago. It has built a fertiliser production house that has the capacity of 20 tonnes per month, one installation of environmentally friendly biogas as well as a unit of mushroom production house. "We process manure waste into organic fertilisers while the straw is used as feed," said Ali Agus during the launching of the programme Independent with Mandiri in Bantul on Friday night (27/9).

Ali Agus said the empowerment programme was to increase food security through integrated agriculture development. "We're concerned that imported food products have threatened food security. The conversion of agriculture land has impacted more on food supply in terms of availability," he said.
Governor of the Special Region of Yogyakarta, Sri Sultan HB X, has appreciated the UGM and Bank Mandiri for their programme. He suggested that the programme not only execute the corporate social responsibility (CSR), "because with CSR, will they be really independent? People will always be dependent on external aid," he said.
Sri Sultan proposed the programme be run for a maximum of five years so that the community can be really independent. He also allows the corporate to charge a one percent tax for farmers so they can be responsible for their own programme. "Let's not educate them into becoming dependent. But if the harvest should fail, the rates should be returned to them," he added.
The Governor mentioned the plan of the local government to draft a bylaw regulating owners not to converse up to 35 thousands of hectare in agriculture land into construction land to improve Yogyakarta's food security. "For as long as 10 years, the land cannot be converted. If harvest fails, they will be recompensated. Until now, the land conversion here amounts to 200 hectares per year," he explained.
Subari, 52, farmer, said he possesed an area of 2,000 square meter in size. The yield was low due to the limited area, but since using the organic fertilisers, the yield has increased up to 1.5 tonnes per hectare.