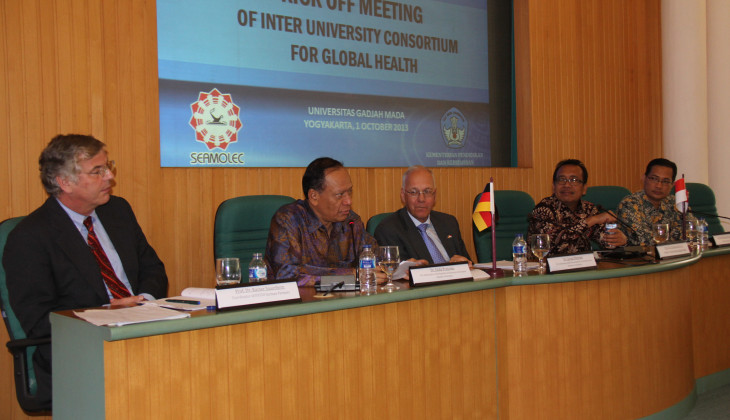 YOGYAKARTA – Five universities joining the Inter-University Consortium for Global Health (IUCGH) have established a cooperation with three German educational institutes to improve the quality of health education and research. The universities are UGM, Undip, Unsoed, Universitas Mulawarman and Universitas Andalas while the German institutes are Heidelberg University, German Cancer Research Center and Postdam Institute for Climate Impact Research.
Coordinator of the IUCGH, dr. Yodi Mahendradhata, M.Sc., Ph.D., said the German institutes were chosen as strategic partners in improving health research as medical science and global health applied in Germany are more advanced. "We expect that the students that we send there will be able to produce more qualified education and research," said the man who is also lecturer in Faculty of Medicine at UGM on Tuesday (1/10).
Following the cooperation, Indonesian students are given the opportunity to pursue higher education in Germany, be it master and doctorate.
Rector of UGM, Prof. Dr. Pratikno, M.Soc.Sc., said the consortium was expected to give more benefits to health education development in each university.
German Ambassador to Indonesia, Timor Leste and ASEAN, Dr. Georg Witschel, expected the cooperation would be able to increase the standard of community health service in Indonesia as "there will be many doctors generated that support education study and health service in hospital," he said.
In his view, the cooperation in health is a breakthrough made by German and Indonesian governments. Cooperations initiated since the 60s have been more on science and technology while in the 80s on industry, nuclear energy and aircraft technology. He expected this cooperation would generate qualified doctoral graduates like "Rudi Habibie (Bacharuddin Jusuf Habibie, ed) that had studied in Germany," he said.
In his opinion, Indonesian young generation should have good command of knowledge and technology in order to make use of the Indonesian ample biodiversity potential for drugs development. Indonesia should also protect rainforest resources, coral reefs, mangroves and marine potentials.