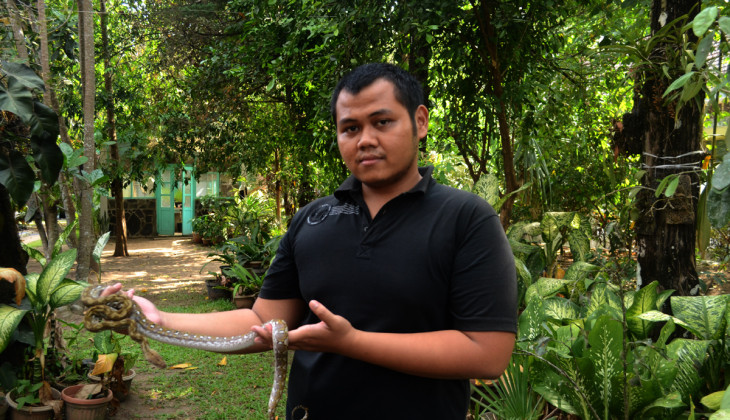 YOGYAKARTA – Three S2 students in Biology of UGM have been granted up to 3,500 dollars in fund by the The Mohammed bin Zayed Species Conservation Fund. The fund is used for research to analyse the familial relationship of the Broghammerus reticulates snakes in the most outlying island of South Sulawesi. The students are Berry Fakhry Hanifa, Prima Nugraha, and Intan Fransisca Nanda.
Berry said they had to compete with other students with over 500 proposals to get a research grant from the Saudi Arabian crown prince's conservation foundation in February. Only 69 proposals passed selection. "One of those is ours," Berry said in the Faculty of Biology (23/10).
The grant amounting to Rp38 millions is to be used for researching the familial relationship of the Broghammerus reticulates on the remote islands. A new sub-species is expected to be produced from the Broghammerus reticulates type in the research. Formerly, the finding of two sub-species in Indonesia were made by a foreign researcher, Mark Auliya, in year 2001 on Selayar and Tanahjampea islands in South Sulawesi, adding up the species to become three. "I've tried to explore new clusters in the snake population where I chose the farther remote islands such as Madu and Kalaotoa islands near the Flores sea," he said.
Berry said he had to travel three days to get to the islands. From Makassar he had to travel to the Bira port in Bulukumba. From here it took him two hours to reach the Selayar island. Then, it was hard to get a boat to take him to the Madu island and Kalaotoa which forced him to wait for a long time. Later, it took him 24 hours to get to these islands. "I stayed about three weeks in those islands to collect the snakes," he said.
It was not easy for Berry to get the snake. His first two days there produced nothing. Then Berry collaborated with the local people. This finally produced results.
"On Madu island I collected 10 snakes and on Kalaotoa 5 snakes," he said.
It is planned that the 15 snakes will be examined in the lab based on cytochrom b gene sequence. The molecular difference of DNA sequence of the snake can lead Berry to confirm whether the snakes are new sub-species or not.