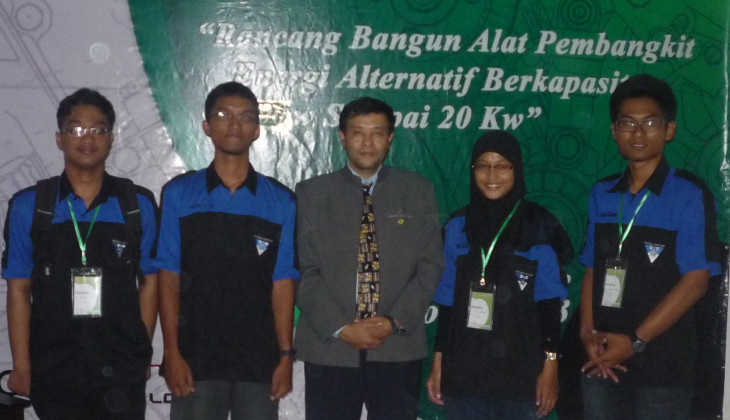 UGM has made another achievement at the national level. Now, UGM is the first winner as well as the overall winner in the annual National Mechanic Engineering Design competition from 23-24 October 2013 at Universitas Lampung.
In the competition UGM sent two teams. The first team is the first winner while the other earned the second consolation prize. The first team consisted of Akhsanto Anandito, Naufal Arif Prasetyo, Hibran Sabila Maksum, and Arfin Aruni Silma. The second team consisted of Ardi Wiranata, Ragil Sulistiyo, Irkham Maulana, and Rizal Afrianto. All are students of Mechanical Engineering and Industry, Faculty of Engineering.
According to Akhsanto, the theme of the competition is New and Renewable Energy. They created an alternative energy of wind turbines with the winglet and pitch control innovation. This can create alternative energy with the 200 - 20 thousand Watts in power. Akhsanto exemplified that a regular turbine at a wind speed of 6,32 m/s would create an energy up to 1,265 Watts. With the winglet the energy may increase to 1,459 Watts.
"Winglet and pitch control may have been applied abroad but these are new technology here," said Akhsanto, Tuesday (29/10).
He explained that they conducted another research to optimise the winglet so the output is maximum. At this stage most of the students' work are in the form of design, thus inapplicable, while the UGM work has gone a long way through CFD and wind tunnel testing.
Naufal Arif Prasetyo added they also use pitch control to make the turbine rotate more stable.
The team which is under the supervision of Dr. Prajitno and Dr. Jayan Sentanuhady from the Centre for Automotive Innovation UGM has beaten other teams from ITS, UI, Universitas Andalas and Universitas Brawijaya. The wind turbine is planned to take part in the windmill competition in Pandansimo, Bantul, in December.