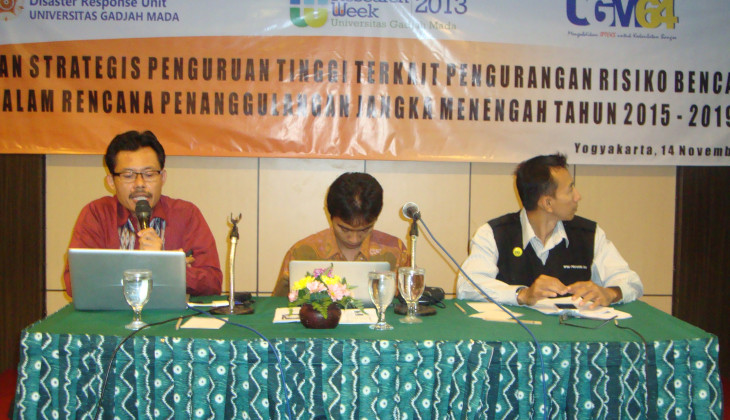 Universities have a very significant and strategic role in disaster reduction efforts. On the one hand, universities have competent resources in science and technology for disaster mitigation. On the other hand, universities have a neutral stance while being located across Indonesia.
"Universities have the knowledge – from social science to engineering - necessary for disaster mitigation," said activist from Disaster Response Unit (DERU) UGM, Slamet Widiyanto, M.Sc, in a Seminar entitled Strategic Role of Universities Related to Disaster Risk Reduction 2015-2019 in UC UGM, Thursday (14/11).
Slamet assessed increased capacity in disaster mitigation may consist several issues, such as research, applied technology, education and training centre, assistancy, study programme, centre for disaster studies, and volunteers. UGM has also optimised strategic roles in disaster reduction through student community service (KKN PPM), volunteeers of DERU and Centre for Disaster Studies.
"Students have big potential to do this, especially through KKN PPM," said Slamet.
Researcher from the Centre, Dr. Danang Sri Hadmoko, said we have to be alerted on one of the disasters, namely, volcanic eruptions. Indonesia has 130 active volcanoes that may erupt at any time. The Centre and the Disaster Management Magister have mapped disaster areas and empowered community on the importance of disaster risk reduction.
Meanwhile, Danang Samsurizal, S.T., Manager from the provincial disaster mitigation agency, explained the possibility of a jump in disaster frequency and risk by 2030 that will affect economic growth. "There has to be enhancement and measured efforts to minimise the risks," he said.
Vice-Rector for Research and Community Service, Prof. Dr. Suratman, M.Sc, reiterated the commitment of UGM in disaster reduction efforts. The real form of the commitment is the presence of laboratory for disaster resilient community in Dukun, Magelang.
"UGM has the commitmen in making Indonesia disaster-resilient," said Suratman.