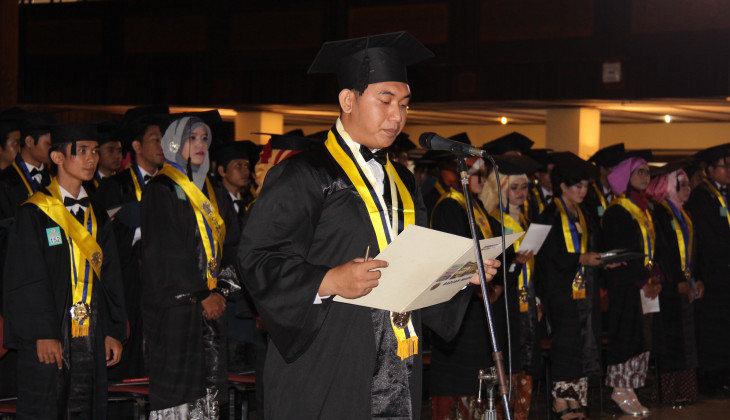 YOGYAKARTA – Predictably, up to 20 millions of graduates from vocational schools are required in the domestic jobmarket. Currently, manpower demand totals up to 115 millions. Over 25 millions of these are graduates from vocational schools. Thus, "20 millions of graduates from vocational schools are still required," said Rector of UGM, Prof. Dr. Pratikno, M.Soc.Sc, to 303 graduates inaugurated in Grha Sabha Pramana on Wednesday (20/11).

It is, however, not easy to meet this demand for the next two years. With the implementation of Asean Community in 2015, graduates have to compete with foreign manpower for job market in the country. "This means that there's no longer the domestic but international job market," he said.
According to Pratikno, Indonesia became a potential job market in the future for its big population and the high purchasing power of its citizens. Indonesia's economic growth is also improving.
This time, Universitas Gadjah Mada inaugurates 303 graduates from vocational schools who have average time of study 3 years and 4 months. The quickest -2 years and 6 months - is Agus Sulistio from Civil Engineering Diploma Programme. The youngest graduate, 20 years and 4 months old, is Dendy Satria Bahri from Remote Sensing and Geographical Information System Diploma Programme.
The number of graduates passing cum laude is 36 (11.88%). Average GPA is 3.07. The highest GPA, 3.90, is achieved by Meirizal Panca Putra from Agroindustry Diploma.