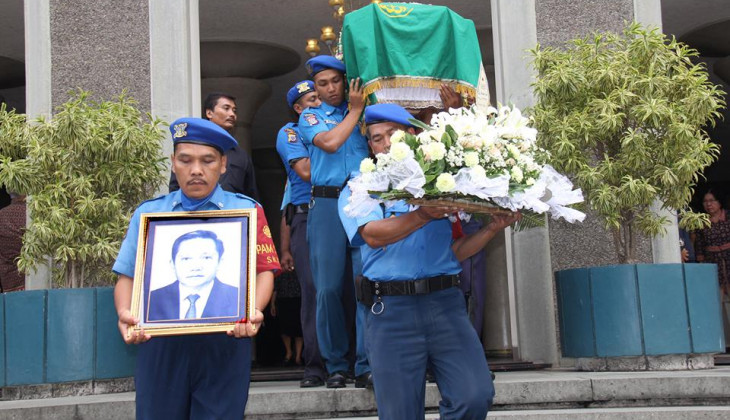 Universitas Gadjah Mada was grieving. One of its best sons, Prof. Dr. Ir. Mochamad Adnan, M.Sc., former Rector of UGM who carried out his tenure between 1990-1994, passed away on Saturday (30/11) at the age of 80 in Jogjakarta International Hospital. The body was laid to rest in Sawitsari compound on Sunday after receiving the last respect from UGM academic community.
In front of hundreds of mourners, the current Rector of UGM, Prof. Dr. Pratikno, M.Soc., Sc., said Prof. Adnan's life journey proved his best achievements. "After earning his undergraduate degree from Faculty of Agriculture UGM in the field of agricultural technology in 1961, he completed his degree in the U. S., a very difficult thing to do at that time," said Pratikno.
Prof. Pratikno said that the man born in Blora on 14 August 1933 was one of the founding fathers of Faculty of Agricultural Technology. Prof. Adnan had also initiated the establishment of graduate studies at UGM. He was the first Dean of Graduate Faculty from 1982-1988. Between 1987-1989 he was Vice-Rector for Academic affairs.
The links between research, graduate studies and internationalisation were the main footing when Prof. Adnan became UGM leader. "What has been developed by the following rectors that label UGM as world class research university is the continuation of the foundation already established by the late Prof. Adnan," he said.
Prof. Adnan was also known as a reliable researcher in food processing technology. His works in applied technology have been recognised nationally and internationally.

Pratikno said the grief was not only felt by UGM academic community only, but also his colleagues when he was a member of the MPR RI from 1993-1998 as well as Rector of Universitas Wangsa Manggala (currently Universitas Mercu Buana Yogyakarta). "We have to turn our grief into a form of hard work to sustain his legacy," he concluded.