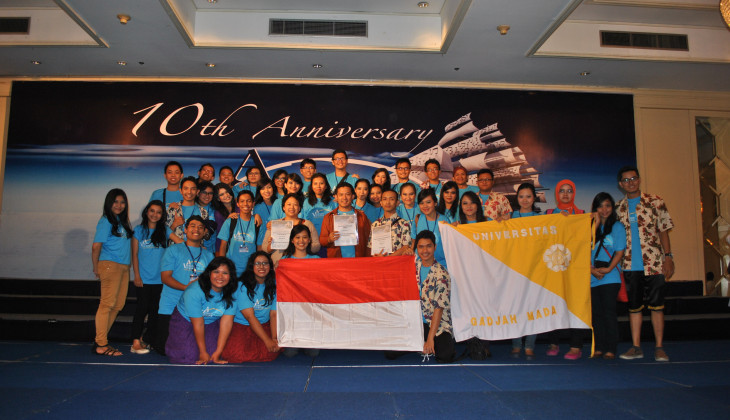 For the first time, the student choir of Universitas Gadjah Mada earns an award at an international level. They got the gold and silver medals in the 10th Anniversary A Voyage of Song International Choral Festival, in Bangkok, Thailand, from 6-9 December 2013.
The UGM team sent 37 members and 1 conductor. They had the gold for the folklore category and silver for mixed voices choir. The team also earned the Best Scenic Folklore Prize as performer of most innovative folklore songs.
"The Best Scenic Folklore Prize is a special award. We are voted the best perfomer as we used the jaranan (horse toy) to add to the stage performance, thus attracting audience," said Febryan Nugroho, chairman of the UGM student choir, in Fortakgama on Thursday (12/12).
In Folklore category, Febryan said, they sang two folklores, Ugo-Ugo from Banyuwangi and Jaranan from Central Java. Ugo-Ugo is arranged by Budi Susanto and Jaranan by Yohanes Wahyu Purnomo.
"In the folklore category we performed in full colour. The jury also assess the costume. We were lucky we were helped by Mr. Didi, alumnus of UGM working in the Indonesian Embassy in Bangkok," said the student of Cultural Sciences class of 2009.
In the category of Mixed Voices Choir, the participants sang three songs, Cantico Delle Creature, composed by Petr Eben, Hope, Faith, Life, Love, composed by Eric Whitacre, and Temaram composed by Ronald Pohan.
"We sang the three songs in one go, while to get to the grand champion, each team had to earn a minimum of 80 points," said Febryan.
Febryan said the 10th Anniversary A Voyage of Song International Choral Festival is the first international competition for UGM choir. "This time is the sixth festival while this is the first experience of UGM student choir for joining a competition abroad. Previously, we performed only in Jakarta and Bandung in 2006 and 2010," he explained.
Other teams are from Thailand, Singapore and China while other teams from Indonesia are Institut Pertanian Bogor, Unibraw, ITN Malang, and Purwacaraka music school in Sidoarjo.
Desty Prilianingrum, member of the team, said, "We registered in May 2013 by sending a video recording. Many also participated in the selection, but not all were invited (to Bangkok)," said the student from Vocational School class of 2011.