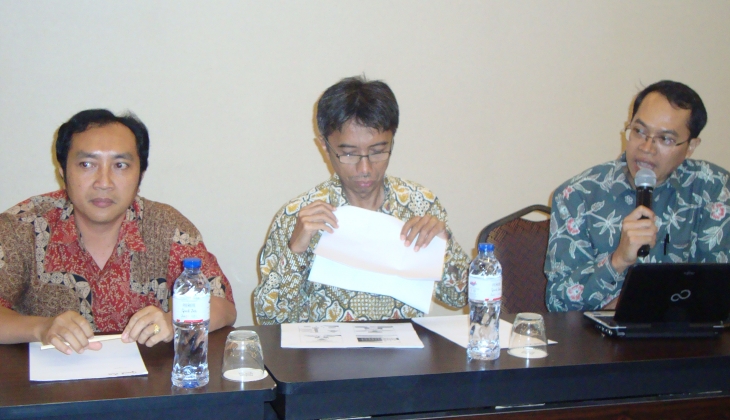 Rector of UGM, Prof. Dr. Pratikno, M.Soc.Sc, encouraged the Grant Program in Competition-Institution (PHK-I) that has ended this year can be continued under other name and source of funding, for example BOPTN. According to Pratikno, reflecting from the previous PHK-I program year 2011-2013, in 2014 similar program has to focus on the interest of research and people's prosperity. "Don't do research just to get published only, but also people's prosperity," said the Rector in a Focus Group Discussion on Wednesday (18/12) in Grand Zuri hotel.
He explained the research development at UGM has to be accompanied by coaching and people empowerment. The program has to be specific and different from other programs at other universities or NGOs. Pratikno hoped the people's empowerment can be included in the national economy program.
UGM Director for Planning and Development, Muhammad Sulaiman, S.T., M.T., D.Eng, said in the past three years UGM had conducted the PHK-I programs theme C and theme D. Theme C focuses on accelerating regional development based on local wisdom and potential through downstreaming of research products whilst theme D on developing global reputation that has national character through technology and engineering synergy to manage the condition and potential of Indonesia's nature in the context of sustainable community empowerment. "The program runs in three regencies in Bantul, Gunungkidul and Kulonprogo," said Sulaiman.
Representatives from those regencies- Bantul, Kulonprogo dan Gunungkidul - hoped that the program can be sustained. They said the program give significant impacts on people's economic development.