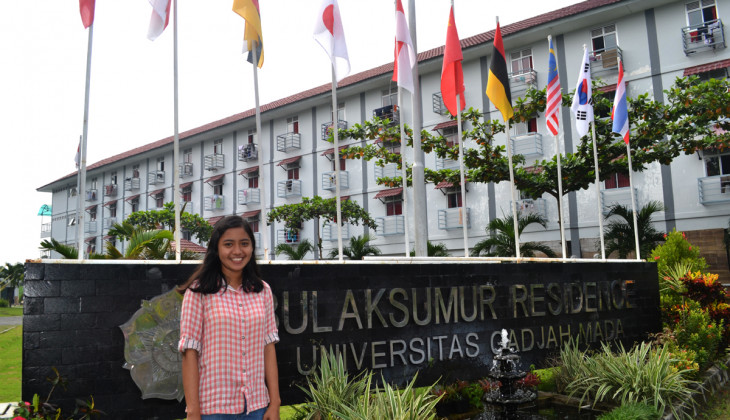 YOGYAKARTA - Universitas Gadjah Mada provides dorms for new students which can also serve as a place for cross-culture interaction. The new students living there will be trained as agent of change. "Studying at high schools and universities is very different, the demands are different, and we would like to facilitate that process," said General Manager of UGM Residence, Boyke R. Purnomo, S.E., M.M, on Friday (17/1).
The UGM Residence is prioritised for new students to stay here for one year. All students are given the opportunity to stay. But due to the capacity, a selection has to be made. "The principle is first come first served," he said.
An aspect different from other lodgings is that here the students will be required to attend soft skill development programme. Various kinds of training are offered, including on how to study and succeed, how to interact, how to explore personal potentials, leadership, entrepreneurship, writing skills and TOEFL test. "We have the curriculum in place that has been developed by UGM and the students have to attend the training four times a year at least," he explained.
361 Rooms Capacity
UGM Residence can be found in four different locations at Bulaksumur Residence, Cemaralima Residence, Darmaputera Residence, and Ratnaningsih Residence. Two new dorms are being constructed currently, Kinanti Residence and Sendowo Residence that will be launched by mid-2014.
UGM Residence has 783 beds. The rent is between Rp250,000 to Rp500,000 per month. One room is for two students minimally as each student has to interact with others.
Now, students from almost all regions have stayed in UGM Residence, even some 140 international students stay there.
Heny Wijaya, 19, student from Semarang who is studying Social Development said she had the chance to get to know people from different regions and countries.
"The condition here is very pluralistic. At first, I thought there were regulations and limitations in the dorm, but it turned out pretty well. Even I have the chance to interact with other friends," she said.
Sharing a room with Jennifer Tai Wei Ling from Malaysia who studies Veterinary Medicine, Heny commented it is a process of adaptation and mutual respect. She adds,"There are times some students find it unadaptive, but after some mediation, they can accept it eventually," she said.
Heny added that despite the policy for one-year stay, she was given another year there after she was assessed as outstanding in soft skills development.