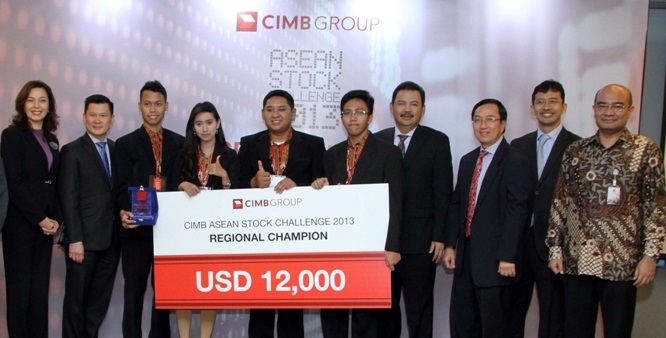 Students of Faculty of Economics of UGM joining the Mojopahit team have won the CIMB Asean Stock Challenge 2013 hosted on 20 January 2014 in Gedung Bursa Efek Indonesia. They won the first place, defeating Monash University in second place, National University of Singapore third and Chulalongkorn University in the fourth place.
CIMB Asean Stock Challenge 2013 is a regional simulation competition of stock trading in stock exchanges of Malaysia, Singapore, Thailand, and Indonesia. This time, as many as 911 Southeast Asian teams joined the event. They were given the challenge to do cross-border stock trading simulation.
"All teams do the simulation, buying and selling by incorporating stock trading in the Indonesian Stock Exchange (BEI), Malaysian Stock Exchange, Singapore Exchange (SGX), and The Stock Exchange of Thailand (SET)," said Mada Satria Putra, chair of Majapahit team on Wednesday (22/1) when contacted by phone.
After the win, Mada and friends, Fadhila Rahmatina, Mochamad Rahadiyan, and Zaken Salomo TG, are given the opportunity to do apprenticeship at CIMB Group, as well as prize money worth US$12,000.
"Becoming the winner makes us proud as we uplift the name of UGM and Indonesia in ASEAN level," he explained.
Meanwhile, Deputy Dean of the Faculty, Muhammad Edhie Purnawan, S.E., M.A., Ph.D, has appreciated the victory for his students. Edhie said the Faculty encourages and supports students to make achievements whether nationally, regionally, or internationally. The support came in the form of corner or dashbord of cooperations with companies or subscriptions to Bloomberg and CEIC. These facilities can be used by students and lecturers for research or teaching.
"In line with the mission of the Faculty of Economics and Business 'To be the best faculty of economics and business in Indonesia and highly respected in South-East Asia in teaching and knowledge advancement,' we continue to aim to be the reference for economics and business learning in Southeast Asia," he added.