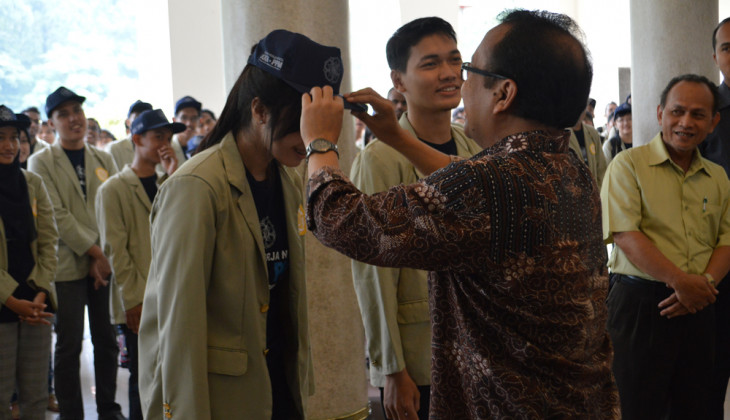 UGM sends up to 64 students for Student Community Service specially designed to deal with disasters that recently struck the country. It is a form of UGM care to help reduce people's sufferings such as the impacts of the Mt. Sinabung eruptions and floodings.
"This time as many as 240 student from 16 Faculties are sent to 4 provinces, 8 regencies, and 12 sub-districts in Indonesia, divided into two themes, namely, disaster area and prosperity improvement," said Deputy Head of UGM Institute for Research and Community Service (LPPM UGM), Ir. Irfan Dwidya Prijambada, M.Eng., Ph.D., in Balairung UGM, Tuesday (4/2).
Irfan said the 64 students would go to Karo (North Sumatera), Kudus (Central Java) and Muara Gembong and Cabangbungin in Bekasi (West Java). The other 176 students would do the prosperity improvement-themed community service in the province of Yogyakarta Special Region, including in Sewon and Sanden (Bantul), (Gunungkidul), Kalibawang, Pengasih, and Sentolo (Kulon Progo), Moyudan (Sleman), as well as Umbulharjo and Jetis (Yogyakarta).
Rector of UGM, Prof. Dr. Pratikno, M.Soc., Sc., in his remarks said Indonesia lies in the Asia-Pacific's Rings of Fire, making the country vulnerable to natural disasters.
"Our position in Asia-Pacific's the Rings of Fire makes our risks much greater, so we have to get accustomed to disasters," he said.
Pratikno explained the recurring disasters make the lives of Indonesians non-sustainable. He expected through the student community service programme, students can dedicate themselves to the people who are affected.
"Many uncertainties in the nature make the lives of the people not sustainable. So, when we're talking about people prosperity, how to address it is by making people free from disasters, economic problems, etc," he explained.
Pratikno asked the students to also disseminate the knowledge and ideas to the local community through writings, photos, or videos to inspire a much bigger range of people.
"Of the student community service programme, we hope the students can also learn much from the local community, accumulating knowledge from society," he concluded.
For those who would like to help the people affected by the disasters can do so through UGM, via Mandiri Bank by the account of Rektor UGM Bantuan Gempa account no. 137.0000.767.778 or via BNI Bank by the account of UGM KPU Rektor, account no. 8880101972.