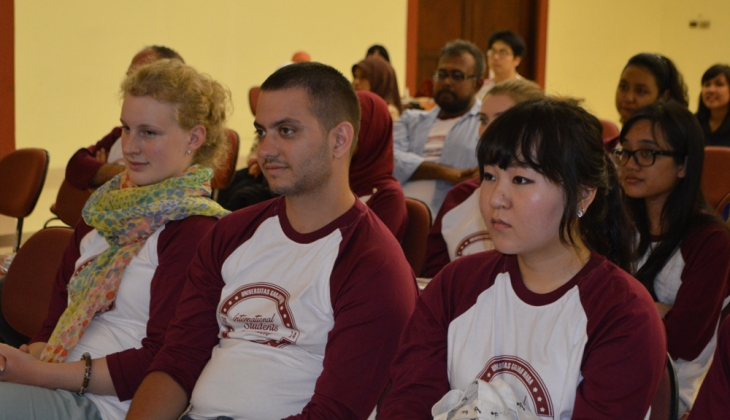 Every year UGM accepts students from all over the world. This semester, UGM has accepted up to 105 international students through non-degree programme, including student exchange and The Indonesian Language and Culture Learning Service (INCULS). They come from the U.S., Australia, the Netherlands, Japan, Germany, Korea, France, and Norway.
"UGM opens two intakes for international students in September and February," said Rio Rini Moehkardi, M.A., Head of Sub-Directorate of UGM Office of Internasional Affairs alongside the international student orientation on Wednesday (12/2) in Grha Sabha Pramana UGM.
Rio said prior to lectures, the students are briefed in terms of study permit, stay permit and visa applications, also on offices that deal with international students, etc.
"The students are invited to join the bike around the campus programme to get to know better of the offices that cater to their needs. Guides will explain to them on the lives here so they will feel at home," she said.
To support the study of the international students whilst here, the Office of International Affairs UGM Buddy Club service which is run by UGM students to assist the international students.
"Indeed, assistance is given in each faculty in terms of academic matters, but at university level, the UGM Buddy Club has been launched," she said.
Rio added the non-academic assistance is provided for students who experience culture shock.
Vice Rector for Cooperation and Alumni, Prof. Ir. Dwikorita Karnawati, M.Sc., Ph.D., in her remarks said UGM is always open and ready to help students that come across barriers in their studies. She hoped the international students would be able to adapt to lives in Indonesia and Yogyakarta.
Dwikorita added they can learn cultural diversities through interactions with UGM students as UGM has students from all over Indonesia.
"UGM is the miniature of Indonesia. Hence, students can learn pluralism at UGM because our students come from different parts of Indonesia," said Dwikorita.
Miriama Ketedromo, from Fiji Islands said she faced not much barriers when in Yogyakarta as she had studied Indonesian before studying at UGM.
"Since 2011 I had learned Indonesian," said the student from Fiji National University that joins the student exchange in Master Program in Economic Agriculture. She hopes she can learn more about the culture and values of Yogyakarta society.