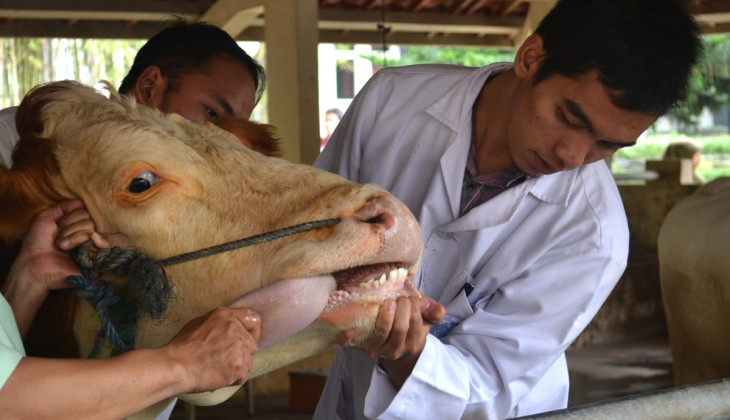 YOGYAKARTA – Universitas Gadjah Mada sent a team of five students from Faculty of Veterinary Medicine to examine animals affected by Mt Kelud eruption. They will join students from Faculty of Medicine and Faculty of Psychology that will despatch for Kediri in East Java. "The UGM students give humanitarian assistance to survivors as well as examine veterinary health," said Vice Dean of Faculty of Veterinary Medicine, Dr. drh. Soedarmanto Indarjulianto, Monday (17/2).
Indarjulianto said the students would do an assessment of the health of cattle and pets as well as give free animal health treatment. "The faculty will give support in terms of the drugs that are required," he said.
Deputy Head of UGM Institute for Research and Community Service (LPPM UGM), Ir. Irfan Dwidya Prijambada, M.Eng., Ph.D., said as many as 30 volunteers would work for 1-2 weeks to help in the disaster emergency response following the eruption of Mount Kelud in Kediri. They will be dispatched to Gumul, Kepung, and Ngancar areas.
They will help in terms of logistical processing and monitoring of people living in shelters. Also, they will give help in medical area and psychosocial support.
Coordinator of Disaster Response Unit (DERU) UGM, Dr. Novi Siti Kusuji Indrastuti, M.Hum., said there are evacuees staying in 81 shelters, in Wates (5,462), Kepung (18,000), Kandangan (3,039), and Ngancar 19 (28,698).
Anticipation against Lahars


Researcher from UGM Centre for Disaster Studies, Prof. Dr. Junun Sartohadi,M.Sc., said one impact to be considered in the aftermath of the eruption is the lahars potential. There are 18 rivers disgorging from Mt. Kelud, causing secondary danger in the possible lahars that may run along 28 villages. "There are only 8 of 18 villages having been equipped with sediment controlling construction to anticipate against lahars," he said.
Head of UGM Disaster Management Magister, Prof. Dr. Sudibyakto, said volcanic management needs to be improved in the aftermath of eruptions of Mt. Sinabung and Mt. Kelud. People alertness and compliance need to be increased. "Information early warning systems is good but it needs to be disseminated while the supporting infrastructures need to be increased," he said.
In terms of disaster mitigation and financing, these are still weak. The local governments are also slow especially during emergency responses. "Planning division, logistical operation and funding need to be prepared, also disaster management integration based on society," he concluded.