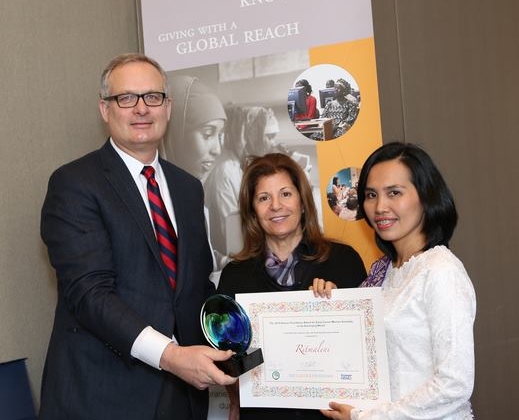 Dr. Ritmaleni, S.Si., lecturer from UGM Faculty of Pharmacy has earned the Elsevier Foundation award in the category of Early Career Women Scientist in the Developing Word 2014. Her works in organic synthetic compounds to develop tropical medicines have given her the award.
Annually, the Elsevier Foundation grants awards for female researchers. This year it gives the award to those in developing countries working in chemistry.
There are four other researchers from developing countries, namely from Jamaika, Nigeria, Uzbekistan, and Yemen, that also received the award. It was given during the American Association for the Advancenment of Science (AAAS) Annual Meeting in Chicago, the U.S., on 15 February 2014.
"All of our works preceding the award were assessed by the foundation," said Ritmaleni on Monday (3/3) in Faculty of Pharmacy UGM.
Leni expressed her pride following the award presentation as acknowledgment to basic sicence researches has not been very much given in developing countries, including Indonesia.
"Offers for research grants in basic science are very few as most are given to applicative researches that can directly produce results," said the graduate from School of Chemistry in the University of Bristol, United Kingdom.
Leni hoped to be able to inspire the young Indonesian women to make achievements and love science. "Women need science, science needs women and they need to work together," she confirmed.