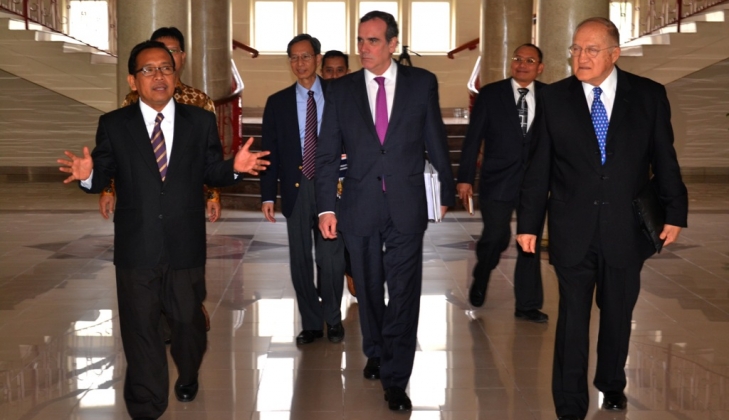 YOGYAKARTA – An international accreditation agency for business schools, the Association To Advance Collegiate Schools of Business (AACSB), has made a visitation to UGM in the accreditation process for Faculty of Economics and Business UGM. The Peer Review Team consisted of Prof. Gonzalo Garland, Prof. Fernando Antonio D'Alessio and Prof. Kwei Tang.

Rector of UGM, Prof. Dr. Pratikno, M.Soc, Sc, said the Faculty of Economics and Business UGM was going through the last phase to get the prestigious international accreditation. "All business schools in the world are competing to get the accreditation from this institution. If UGM is successful in getting the accreditation, UGM will be the first university in Indonesia and the seventh in ASEAN to get it," said Pratikno after receiving the AACSB team in his office at UGM Main Office on Monday (3/3).

To get the AACSB accreditation, Faculty of Economics and Business UGM has gone through a seven year's process. Pratikno hoped that the Faculty could get the accreditation so it would encourage other UGM faculties to get other international accreditations.
Other Indonesian universities also applied for the AACSB accreditation. The long and rigorous process to get the status had discouraged several universities, thereby withdrawing from the process. "If UGM is able to achieve the accreditation, it will surely encourage other universities to do the same," he concluded.