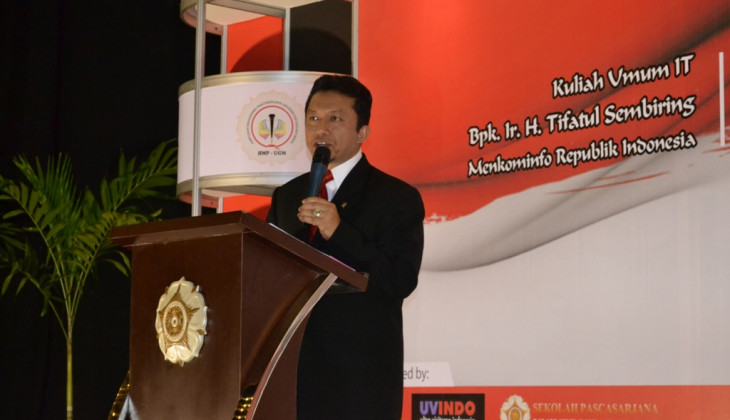 YOGYAKARTA – Communication and Information Minister Tifatul Sembiring reiterated communication security and information procurement are equally important with food security, energy and water. Currently, communication security has become the most sensitive issue for many country leaders. The Minister assumed that the wire tapping done by intelligence services is for power and economic purposes. "Wire tapping and espionage have been taking place. The biggest motive is power and economy as well as business competition between huge corporations," said Tifatul during the Gebyar Inovasi Pemuda Indonesia (GIPI) event at Grha Sabha Pramana UGM, Saturday (8/3).

Whilst admitting the difficulties to eradicate wire tapping, the minister agreed that information and communication availability has become a need for society. Thus, his office is prioritising communication and information infrastructure. Tifatul explained his ministry has built as many as 1000 free WiFi spots across the country. Domestic Internet users currently stands at 47 millions while mobile phone users 270 millions. The government will increase Internet services to get everyone access to the Internet. Whilst for areas that still have no electricity, his office will build Base Transceiver Stations (BTS) that make use of solar power and biogas energy.
Chairman of Indonesian Scientists and Technologists Society (MITI), Dr. Warsito P. Taruno, has urged the government to develop national innovation system by guaranteeing technology and knowledge transfer in industry and business sector. The government, among others, need to ban raw commodities exports. "The government has to take side with product innovations that have high economic value and use our own human intellectual resources," he said.
Vice Rector for Cooperation and Alumni UGM, Prof. Ir. Dwikorita Karnawati, M.Sc., Ph.D., said acceleration of research products for industry and business was already done by UGM by establishing the Directorate for Business Development and Incubation in order to downhill UGM research outcomes to industry. "Recently, UGM Gamaherbal research product has gone to the market," she said.