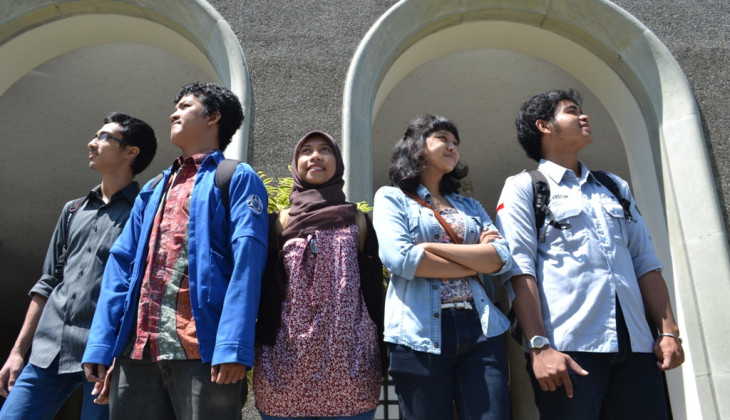 YOGYAKARTA – Some students spend time outside their campus and make contributions to society. There are three communities among UGM students giving disaster education to different community groups. These communities are UGM Student Community Service from Sepanjang unit in Karanganyar, Gadjah Mada Ambassador for Rescue and Safety Action (Gamarsa) and Global Issued Observer (GIO). Their activities in disaster mitigation education has been appreciated by Japan Foundation that invites them to the Youth Competition for Disaster Education in Japan from 11-21 March.
The UGM team along with those from Universitas Syiah Kuala Aceh and ITB were selected to represent Indonesia in the competition after competing with other 319 teams from across Indonesia. In Japan they will compete further with others from ASEAN, Australia, New Zealand, and Timor Leste.
From Kei to Sabang Islands
Gery Christian from Komunitas Gamarsa, said they established the group to give disaster education to children, especially those living in the most remote islands of Indonesia. In cooperation with Student Community Service who were doing their mission on those islands, they invite children to join their disaster education programme. They shared the costs for their activities.

The students used games and toys to attract the children's attention in Evu village on Kei Kecil island in Maluku Penggara; Payah Senara village on Sabang in Aceh; in Banjarnegara, Central Java, and Kaliadem in Sleman, Yogyakarta.

Gamarsa collaborates with the local youths to bridge the gap due to the language barrier. Gery added they took a different approach in each region, however, he emphasised that children are curious to know more about disasters.
The blind
Different from Gamarsa community, the GIO community that consists of Yori Alief and four other classmates from Geography have given disaster mitigation education to children with special needs. Along with other 15 UGM students, GIO did an earthquake simulation in Yaketunis school in Yogyakarta, because disaster mitigation socialisation is rarely given at schools for children with special needs. "We have selected the blind students as they are the most vulnerable ones during disasters," he said.
The limited ability of the children has posed a challenge for Yori and friends while they are doing the socialisation. So, they set up a construction model using the Braille to enable the children to understand the evacuation route and meeting point during an earthquake.