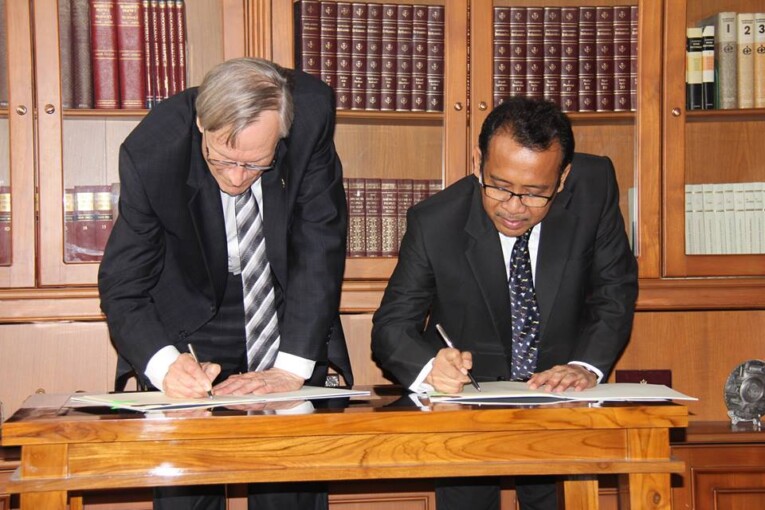 UGM opens dual degree programme with Flinders University in Public Administration, Management and Policy as well as Master Programme in Hospital Management. It is marked with the signing of a Memorandum of Understanding by Rector of UGM, Prof. Dr. Pratikno, M.Soc., Sc., and President/Vice Chancellor of Flinders University, Prof. Michael Barber, on Wednesday(12/3) at UGM Main Office.
The cooperation agreement on public administration is signed by Dean of Faculty of Social and Political Sciences UGM, Dr. Erwan Agus Purwanto, M.Si., and Executive Dean of Social and Behavioral Science, Prof. Phyllis Tharenou. While on health management, the agreement is signed by Dean of Faculty of Medicine UGM, Prof. Dr. Teguh Aryandono, and Excecutive Dean Faculty of Medicine, Nursing, and Health Sciences, Prof. Michael Kidd Onk.
Pratikno announced the dual degree cooperation is focused on student and lecturer exchange and research to increase human resource capacity.
"We hope this cooperation will support student capacity enhancement in both programmes," he said. He further hoped the cooperation will extend to more areas.
"UGM has 18 Faculties, Vocational School, and Graduate School that are open for cooperation," he said.
Michael Barber said the dual degree master programme would extend opportunities for Indonesian students to study in Australia. He also hoped in the future more Australian students will be able to study in Indonesia, not only to learn the language and culture, but also other disciplines.