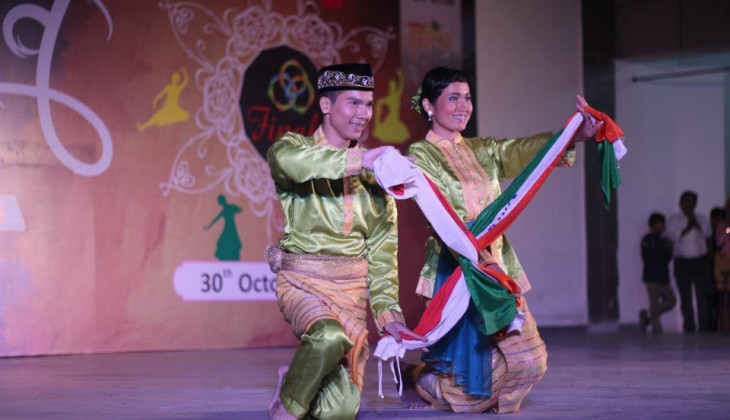 The Aceh Arts Unit of UGM (SAKA UGM) has participated again in an international dance festival in Nepal. SAKA UGM is entitled to take part in this event after winning The Most Favourite Group during the Udbhav Utsav International Dance Festival in India in 2012 and the winner of International Arts Festival in Singapore in 2013.
The international dance festival in Nepal took place from 26 February - 7 March 2014, held in four major cities, Kathmandu, Hetauda, Pokhara and Dhading. SAKA UGM in this festival gave a different colour. They performed different dances in every city.
"The festival is entitled 7th International Folk Festival 2014, hosted by Everest Cultural Group. It is joined by over 300 artists from various countries in the world, including Bangladesh, Germany, Nepal, Israel, Korea, Sri Lanka, Mexico, Ghana, India, Iran and Indonesia that is represented by SAKA UGM," said Walid Ananti Dalimunthe from Management and Public Policy UGM on Friday (14/3).
In the opening ceremony in Nepal Academy Hall in Kathmandu, SAKA UGM performed the Ranup Lampuan welcome dance and jaranan (horse dance). Ananti Dalimunthe said it was responded very well, so was the next performances, Jali-jali, Mak Inang and Serampang Dua Belas.
"There is also a carnival that became a magnet of attention in every city. In Pokhara, SAKA UGM performed the Likok Pulo, one that we use to perform," she said.
The response to the Likok Pulo dance, said Ananti, was beyond expectation. The Pokhara City Hall was full of screams and handsclapping after SAKA UGM finished a dance.
"Even Ram Chandra Koirala, chairman of the 7th International Folk Festival, commented that this is their best performance," she said.
In their last performance in Kathmandu, SAKA UGM displayed the Sahureka-reka dance from Ambon. SAKA UGM gave their all, wearing beautiful costumes from House of Demplon, a high-end brand from Jakarta.
"Obviously, we would like to extend our gratitude to everyone - DIKTI, DIRMAWA UGM, Kagama, PT TWC Borobudur, RRI Yogyakarta and Kedaulatan Rakyat- who has made our participication in Nepal a success," said Ananti Dalimunthe.