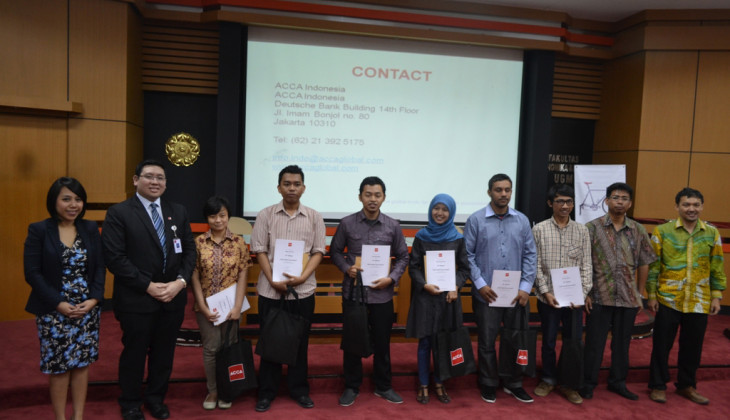 Six more students of UGM have been awarded Book Prize Awards by the Association of Chartered Certified Accountants (ACCA), U.K. The students by the names of Lay Monica Ratna Dewi, Angga Dwi Putra, Aldo Egi Ibrahim, Luluk Permata Sari, Abubakar Adny, and Hary Kurniawan, students of Accounting, have been awarded due to their high GPAs and student activities.
Lay Monica has as high as 3.99 of GPA. She is also active in student activities. She and her team were also the first winner in the Spring 2014 SolBridge Asian Thought Leaders Case Competition in South Korea Selatan in March 2014.
The Book Prize Awards is presented by Head of ACCA Indonesia, Mulyadi Setiakusuma, on Friday, 28 March 2014 at UGM. They granted up to 600 poundsterlings for each student to purchase books.
Head of Accounting study programme, Mahfud Sholihin, Ph.D, said UGM is seen as a leading university that gives quality accounting education in Indonesia. As a form of trust, ACCA gives exemptions for some modules to alumni of the study programme to sit in certification examinations.