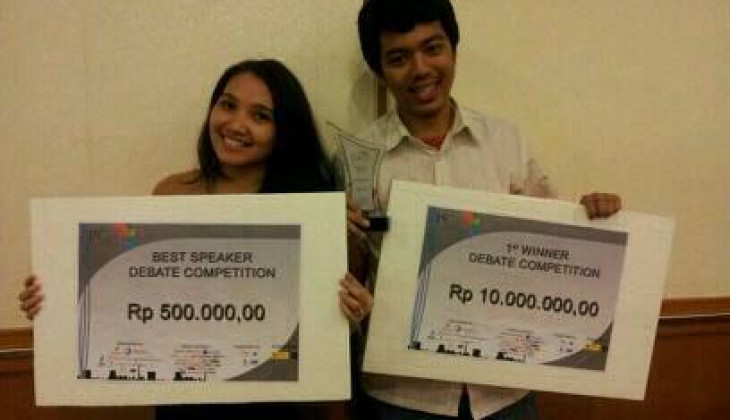 The Universitas Gadjah Mada's English Debating Society (EDS-UGM) has won a debate competition to mark the PetroGas Day 2014 hosted by Chemical Engineering, Faculty of Engineering, University of Indonesia. The UGM team consisting of Thoriq Muthohari and Erwina Salsabila beat other participants from other Indonesian and South East Asian universities, such as from Vietnam.
Thoriq explained the competition using a four preliminary rounds model started with the motion "This house would ban companies from owning patents for renewable energy resources". The pre-semifinals round was marked with the motion "This house would impose moratorium on deep sea drilling until a reliable form of renewable energy becomes accessible". The UGM team went to the finals on the motion "This house believes that it brings more harm than good for Ukraine to establish agreements with Russia", which they eventually won.
In addition, Erwina Salsabila became Best Speaker, followed by Wida Wahyuni (Faculty of Cultural Sciences class of 2010) and Thoriq Muthohari (Faculty of Medicine class of 2010) in second place.
"We expect winning this regional level competition would bring us higher to the national and international levels," said Thoriq.