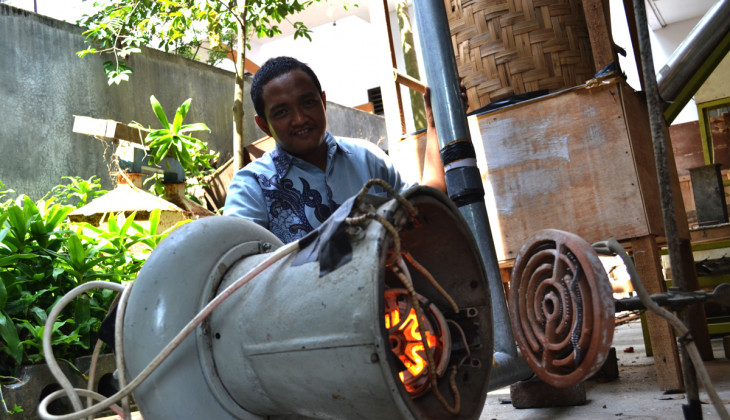 YOGYAKARTA – A student of Agricultural Engineering, Ridho Andika, has produced 'Robot Gedek', a bamboo tube measuring 3 meters in height to dry rice husks.
The tool consists of gedek (bamboo wall materials), wood, metal pipe, and heater. Ridho produced the equipment in two months to help farmers dry the husks after harvesting faster. "In just 5-6 hours, the husks weighing 300 kilogram can get dry fast," said the man born in Jakarta 23 years ago, when met at Faculty of Agricultural Technology on Monday (7/4).

The idea to make the equipment came up when he was doing his thesis. Costing him Rp 1 million to make, he wanted to help the farmers who often found it difficult to dry the rice when the weather does not permit. "The moisture level in the husks will affect the rice quality," he added.
He chose the bambo material as it is relatively cheap and easy to get as well as resistant to the heat that is channelled into it through the pipe. "The bamboo material is very flexible, I think the famers can even make it by themselves," he said.
To dry the husks, Ridho uses a 2000-Watts heater on loan from the Faculty. The temperature produced ranges between 60-100° Celcius. It is also equipped with moisture meter. The detection tool is inserted through the holes on the bamboo walls. "After 5-6 hours of drying, the moisture will reach the required level at around 12%," he explained.