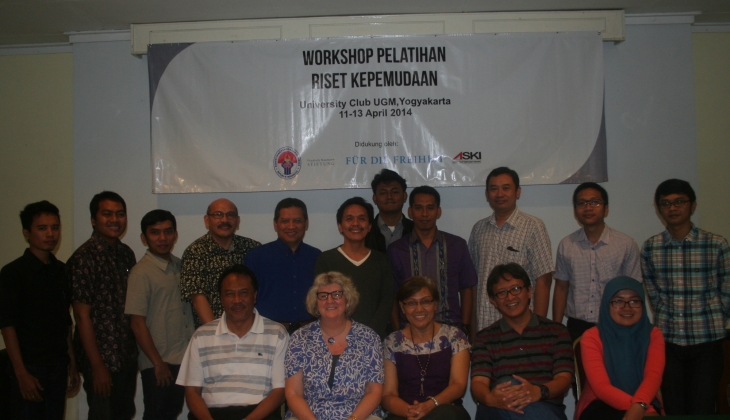 A strong research is required to support national youth policy. It emerged in a workshop and training at UGM from 11-13 April 2014 for youths, run by Association of Indonesian Youth Studies (ASKI), supported by Friederich Naumann Stiftung fuer die Freiheit (FNF) from Germany. Researchers from10 universities join the programme: UGM, UI, UNDIP, UNHAS, UNRAM, UNSRI, USU, UNTAN, UNAIR, and UNSYIAH. Resource persons are Dr. Lalu Wildan, former Youth and Sports Deputy Minister.
During the event, a book is also launched, entitled Buku Panduan Studi Kepemudaan: Teori, Metodologi dan Isu-isu Kontemporer, edited by Dr. Najib Azca; Derajad S. Widyharto, MSi; and Oki Rahadianto Sutopo, MA, published by Youth Studies Centre (YouSure) FISIPOL UGM. Writers from the country and abroad contributed to the book, including Prof. Pam Nilan (youth studies professor) from University of Newcastle and University of Western Australia.
Prof. Pam Nilan appreciated the launching of the book. He stresses the importance of conducting reseaches to support youth policy.
Some proposals for research are discussed in the workshop, including youth creative entrepreneuship, volunteerism, economic survival strategy as well as social-media.