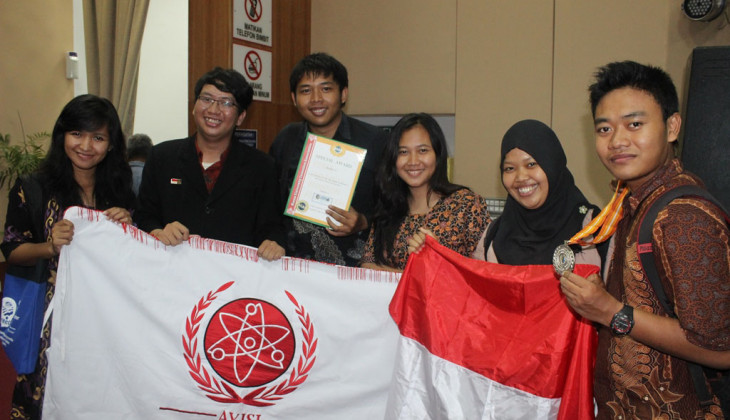 UGM students participate in innovator event, I-ENVEX 2014, at Universiti Malaya Perlis, Malaysia, on 12 April 2014. Participants from Indonesia, Cambodia, Romania, Korea, Taiwan, India, Egypt, Croatia, Iraq, the Philippines, Ukraine, Armenia, Kazakhstan, Maldova, Georgia, Turkmenistan, and Kyrgyzstan join the event, bringing together 398 exhibitors. The UGM team consist of Immanuel Sanka, Ni Wayan Erly S.D., Nungke Diah P., and Muhammad Ali Fikry, all students of Biology class of 2010, and lecturer, Dr. biol. hom. Nastiti Wijayanti.
According to Sanka, the UGM team stemmed from the abundant fisheries resources in Indonesia that produce waste that has not been utilised.
"One form of fishery waste is the squid ink. It is known that the ink contains compounds that can be made into anticancer, antibacterial, anti-retroviral agents, and some other things," he said on Tuesday (15/4).
He explained the UGM team had developed a simple method to obtain crude extract without melanin from a local squid type, namely Loligo sp. The crude extract is tested with HeLa cell cultureusing the MTT Assay method. It showed local toxicity in the HeLa Cells, but able to block the proliferation of the cancerous cells up to 100%. Research has yet to be developed further.
In the event the UGM team earned Silver Medal and Special Award from Korean University Invention Association. The Indonesian delegation is coordinated by the Association of Young Innovator and Scientist Indonesia (AYISI). Other participants from Indonesia include Universitas Brawijaya, Universitas Negeri Jakarta, Universitas Negeri Surabaya, and Universitas Haluoleo.