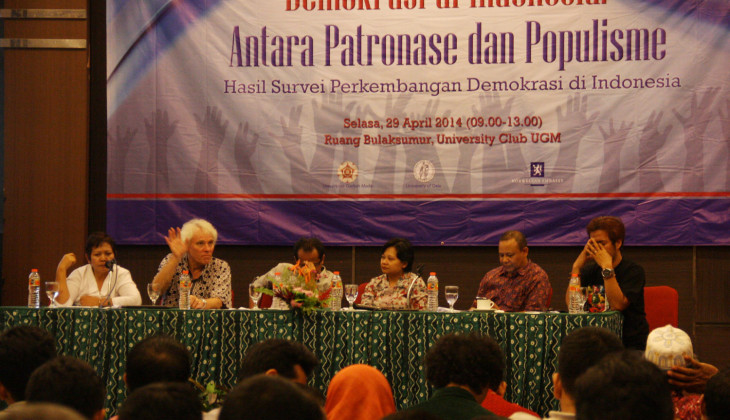 YOGYAKARTA – Prof. Dr. Purwo Santoso, lecturer in political science of UGM, announced the results of a survey on Indonesian democracy development in UC UGM on Thursday (29/4). He says the state of Indonesia is occupied with public service regulations rather than the implementation of those regulations. State apparatus are weak in policy implementation, too. In the country, welfare provider is not the state but market players or private sector and society-based governance.
The survey is a cooperation between UGM and University of Oslo that has been done since early 2013-2014 in 30 regencies/municipalities in Indonesia, involving 592 pro-democracy activists.
Findings in the survey are: Indonesian democracy leads to figure-based politics. There is even a tendency that organisations such as political parties and grassroots-based organisations are no longer important in politics. According to Purwo, there is the need in the figure-based politics of those figures to make themselves more popular through mass media mechanism.
Profesor in Politics from University of Oslo, Prof Olle Tornquist, said the Indonesian politic leads to populism. This seems to mark the shift of Indonesian political model from patron based to client based characteristic.
Another team member who is also lecturer in International Relations of UGM, Dr. Eric Hiarej, said it is not only money politics that encourage people to vote for certain candidates but also strong relations in society.