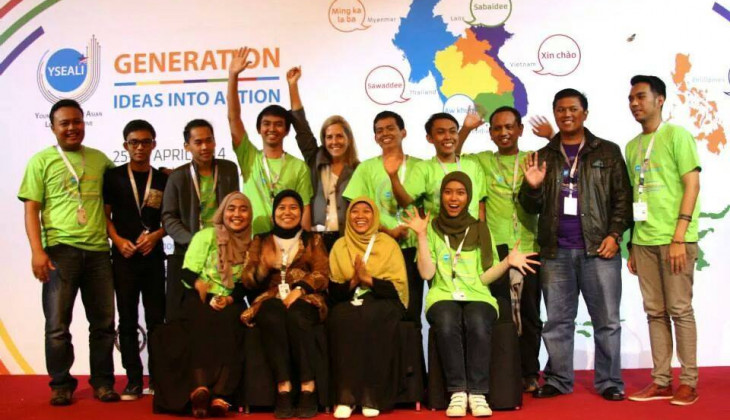 Two of UGM students - Rida Nurafiati (Accounting) and Fajar Andhiprabawa (International Relations) - have met U.S. President Barack Obama during the Young South East Asian Leader Initiative (YSEALI) at Universiti Malaya, Malaysia, Sunday (7/4).

Rida Nurafiati joined the YSEALI programme along with Fajar Andhiprabawa as they had been invited by the U.S. Embassy Jakarta to represent Indonesia after their role in the community development programme in the U.S.
YSEALI was launched by President Obama in December 2013 in Manila, followed by 103 ASEAN youths that join the U.S. Exchange Alumni.

U.S. Exchange Alumni unites alumni for scholarship programme from the U.S. Department of State. With the theme "Ideas into Action", this programme concentrates on creative ideas drafting to minimise problems facing ASEAN that focuses on education, environment, civic engagement and economic development.


Rida asked President Obama about what happiness means to him in the YSEALI event.
"I was very surprised that I was given the opportunity to ask the President. President Obama said he was happy if he could spend time with his family, also to have integrity and if what he does would benefit others," said Rida on Thursday (8/5) at UGM.
During the YSEALI from 25-28 April 2014, Rida said participants were asked to discus topics in groups, competing for community empowerment grants from the U.S. Department of State.
"In his remarks, President Obama said the U.S, currently focused on ASEAN in terms of economic, culture, and social aspects. They believe that ASEAN would become the world's fastest growing region in the next five years," said Rida.