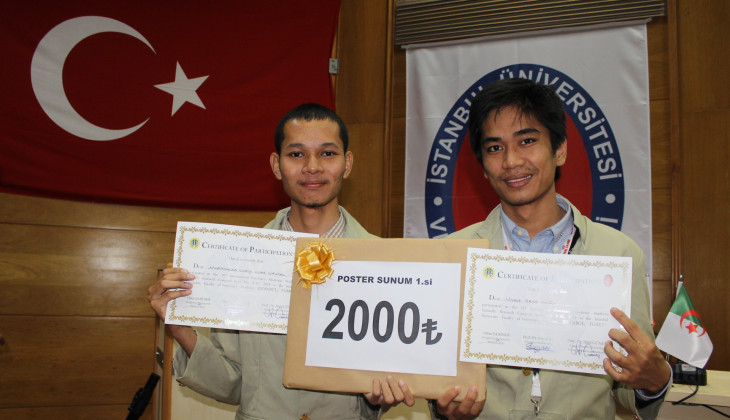 YOGYAKARTA – Faculty of Veterinary Medicine UGM sent 4 students to the 16th International Veterinary Medicine Student Scientific Research Congress that was organised in Istanbul Universitesi-Veteriner Fakultesi, Turkey, from 8-10 May 2014, bringing together over 100 participants from Europe and Asia.

The students are Novra Arya Sandi (2010), Istianah Maryam Jamilah (2011), Muhammad Nuriy Nuha Naufal (2010), and Riana (2011), who were presenting a scientific paper in oral presentation competition, poster presentation competition, and project competition.

Novra and fellow students researched "Study of Potential of Strawberry Extract as Alternative Antibacterial Against Staphylococcus aureus Multiresistant Antibiotics from Immunological and Histopathological Aspect" that won the first place in the poster presentation, winning some 2000 TL (Turkish Lira). "We did not expect our research would win the first place for which we were very thankful," said Naufal to reporters on Friday (16/5).

Meanwhile, in the oral presentation Novra presented a review on a journal entitled "A Review: Development of Vaccine Candidate of Methicillin-Resistant Staphylococcus aureus (MRSA) from 7 Indonesian Isolates Based on Cell-Mediated Immunity as a Universal Strategy to Control Staphylococcal Infections in Human and Animal". Furthermore, Istianah presented her research entitled "Histological Study of Pyramidal Cell in Cornu Ammonis of Hippocampus Lasiwen (Myotis muricola): an Indonesian Wild Animal That Potentially Acts as Rabies Natural Reservoir".

In the project competition Istianah presented her project entitled "The Effect of Chicken Eggshell Powder (CEP) Supplementation on Calcium and Phosphor Excretion in Wistar Rat as an Alternative Source of Calcium for Therapy of Hypocalcemia in Human and Animal". The Indonesian team also had the chance to compete with other participants in the big 6 finalists round.
Istianah added her team agreed to continue the research that will benefit veterinary public health and support education in veterinary science.