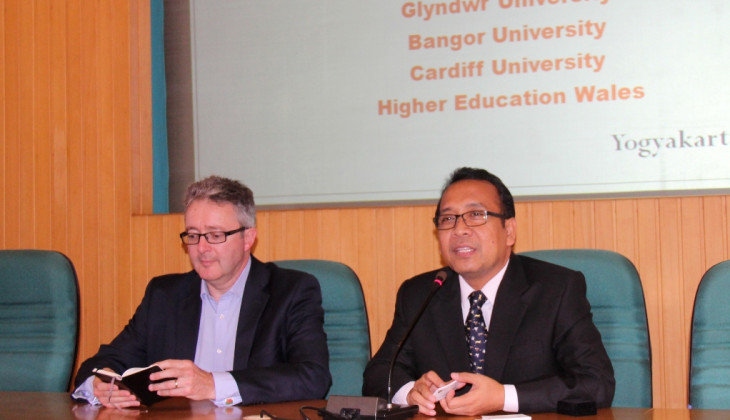 YOGYAKARTA – Seven Welsh universities assessed opportunities for cooperation in education and research on renewable energy with Universitas Gadjah Mada. Those are Aberystwyth University, University of South Wales, University of Wales Trinity Saint David, Glyndwr University, Bangor University, Cardiff University, and Cardiff Metropolitan University. They were received by Rector of UGM, Prof. Dr. Pratikno, M.Soc., Sc., in the Multimedia Room of UGM Main Office on Tuesday (3/6).

Pratikno said the visit by the British universities indicated that Indonesia gets more attention from European higher learning institutions. In the past, cooperation with British universities is very little as "This country cooperates more with India and Asian countries. It's only recently the UK has more aggresively come into South East Asia," said Pratikno.

He added the research conducted by Welsh universities was expected to support UGM research, particularly renewable energy and maritime affairs. "They are very strong in them," said the Rector.
Soon the both of them will assess opportunities in teaching cooperation in the form of student and lecturer exchange.


Chairman of the Welsh team, Prof. John Grattan, appreciated and welcomed the cooperation opportunities. The views shared by UGM leadership and researchers would be able to build a closer cooperation in the future. "Moreover that there are UGM alumni studying in Wales, which is very helpful," he explained.
The Welsh delegates are Prof. Vassilis Konstatinou from University of South Wales, Prof Foxon from Glyndwr University, Richard Thomas from University of Wales Trinity Saint David, Richard Cotton from Cardiff University; Dr. Morag McDonald from Bangor Univerity, and Lloyd Powell from Cardiff Metropolitan University.