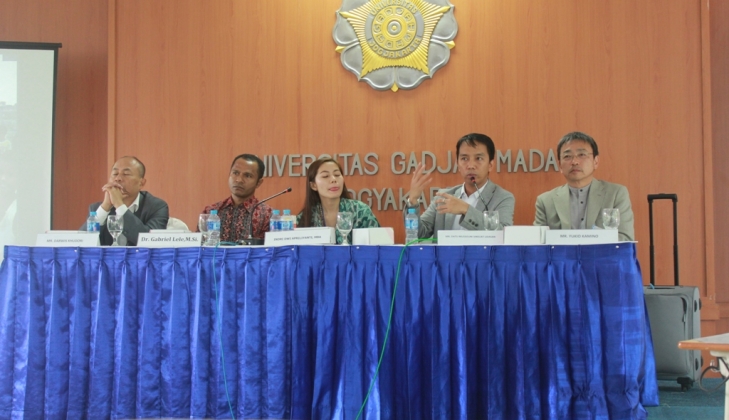 YOGYAKARTA – Government and private sector are still considered lacking in efforts in resolving environment crises, even Sustainable Development has not become the main programme. The role of civilians and academic community is, therefore, required to boost the government and private sector.
Dr. Darwis Khudori, MA., DEA, Professor from Le Havre University, France, said Sustainable Development was currently facing two serious problems: environment crisis and urbanisation. "It is not only material, but also non-material issue such as culture and life style differences," said Khudori in the international seminar entitled The State, Business, Civil Society and The Role of University In Search of a Common Platform for Collaboration in UGM Library recently.
Yukio Kamino, researcher and coordinator of The Organization for Industrial, Spiritual and Cultural Advancement (OISCA) International, assessed human activities became the dominant factor that affect the climate and the environment. "Presently, the geological atmosphere, hydrology and other natural processes are very much affected by human behaviour," he explained.
He said that higher learning can offer the knowledge for human beings to adapt themselves to the earth, acting as the bond that brings together the government, the market, and civil community.


Gabriel Lele, Ph.D, UGM lecturer in Management and Public Policy, said high learning is autonomous and neutral, thus having contributions to bring together the actors in encouraging Sustainable Development programmes.
Meanwhile, Mussolini Sinsuat Lidasan, Director of Qalam Institute of Islamic Identities and Dialogue in Southeast Asia – Anteneo de Davao University, Philippines, said sustainable development has also to pay attention to human living condition. "Peace, tolerance, and mutual respect are indicators of the success of sustainable development," he concluded.