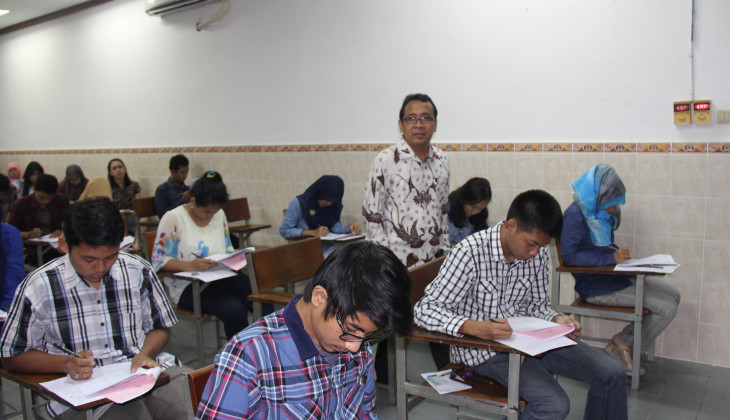 As many as 23,779 applicants were sitting for UGM Written Test that was held at Yogyakarta, Jakarta, Balikpapan, and Pekanbaru, on Sunday (22/6).

Rector of UGM, Prof. Dr. Pratikno, M.Soc., Sc, along with Vice Rectors and faculty leaders monitored the test at UGM.

Academic Director, Dr. Ir. Peni Wastutiningsih, explained the tests were run in 43 venues in Jakarta that involved up to 1,374 people overseeing them. In Yogyakarta no less than 43 locations were used and 1,374 people were doing monitoring. In Pekanbaru tests were held at SMP Negeri 13 Pekanbaru and SMP Santa Maria while in Balikpapan at SMA Negeri 1 Balikpapan.

"The breakdown of the applicants are 15,986 people applying for science and technology category, 6,467 social and humanities, the rest (1,326) mixed category," she said.

She further said the doctor education study programme was still a favourite amongst applicants, followed by Geological Engineering, Dentist Education, Law Sciences, and Management.

Peni added UGM would admit up to 1,257 students (20%) from the Written Test and Talent selections. "The results of the Written Test will be announced on 18 July 2014," she added.