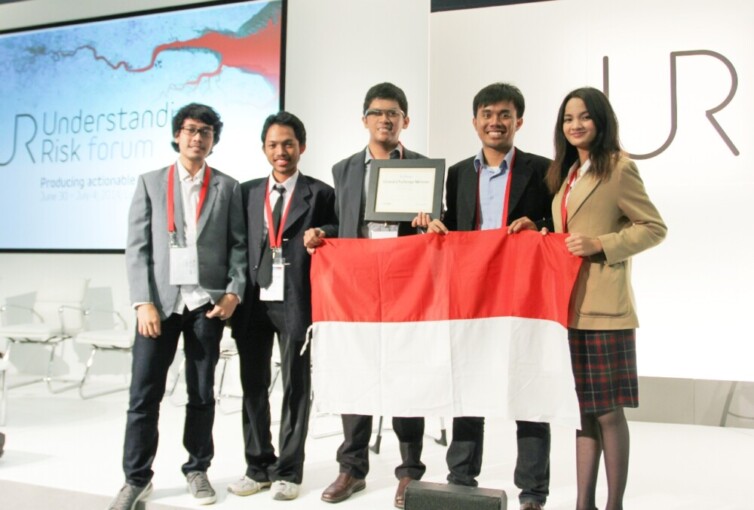 An application to map disasters made by UGM students have gained a Global Winner award in a competition, Code For Resilience, hosted by the World Bank in London on 30 June 2014. The Quick Disaster application developed by a Computer student and a Geopyhsics student, Daniel Oscar Baskoro (Project Manager), Zamahsyari (Programer), Bahrunnur (Programer), Sabrina Woro Anggraini (Copy writer), and Maulana Rizki Aditama (Data Analyst), have earned a trophy at the Understanding Risk Forum at ExCel, London.
The award was presented in London, attended by Mayor of London, World Bank officials and partners (Google, Microsoft, Mozilla, Net Hope, etc), as well as journalists from all over the world.
Daniel Oscar Baskoro explained the participants of the competition came from all the countries in the world. Their application had been selected into the big ten before named as the Global Winner.
Panel of jury consisted of nine professionals from various disciplines. "The success of Quick Disaster in becoming the Global Winner is an extraordinary thing, the research we conducted on campus could yield a good result and showed that our creation is able to compete at the world level," said Oscar on Tuesday (1/7).
He said the Quick Disaster is an application to anticipate disasters which is developed on wearable devices, Google Glass. It has now reached its 2.0. version. Users will have three important information on disasters: before a disaster, disaster history of a region; and after disasters with user photo integration features with the social media.