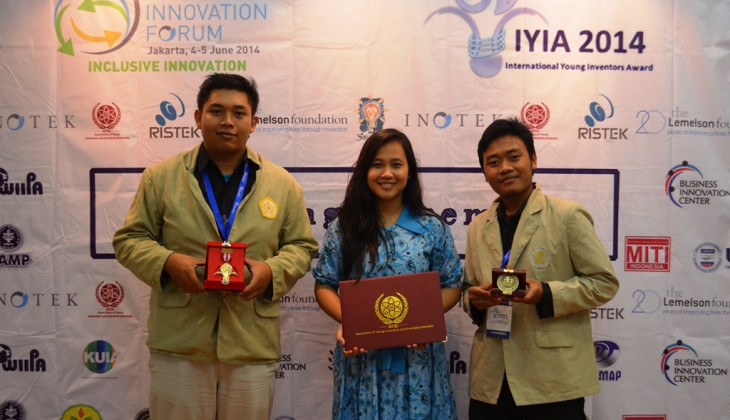 YOGYAKARTA – A team from Faculty of Biology UGM, Riswi Haryatfrehni, Rahadyan Aulia, and Afra Meilianda, Ni Wayan Erly S.D, Immanuel Sanka, Muhammad Ali Fikry and Nungke Diah, have made use of squid ink as biomedicine.
The research makes use of squid ink as anti-cancer drug through in-vitro testing of cancerous cells in the makrofag cells and activity testing of the fagositosis. "Testing of the squid ink is being done to know other benefits of the squid ink," said Imanuel Sanka on Friday (11/7).

According to Sanka, the team plans to do research collaborations in other potentials of the squid ink.
The team participated in the International Young Inventors Award (IYIA) 2014 from 4-5 June 2014 in Jakarta, hosted by Association of Young Innovators and Scientist Indonesia (AYISI) in cooperation with INOTEK and Research and Technology Ministry. It is joined by hundreds of participants from 11 countries including Indonesia, Malaysia, Taiwan, Korea, Poland, Thailand, Romania, Egypt, Croatia, Krygyztan and Canada. "Our team has been awarded the Gold Prize and Special Award from the Association of Polish Inventors and Rationalizers," he said.

Dean of the Faculty, Dr. Budi Setiadi Daryono, M.Agr.Sc., hoped the students continue to play their role in studying Indonesia's biodiversity potential to develop science and technology for the benefit of humankind.