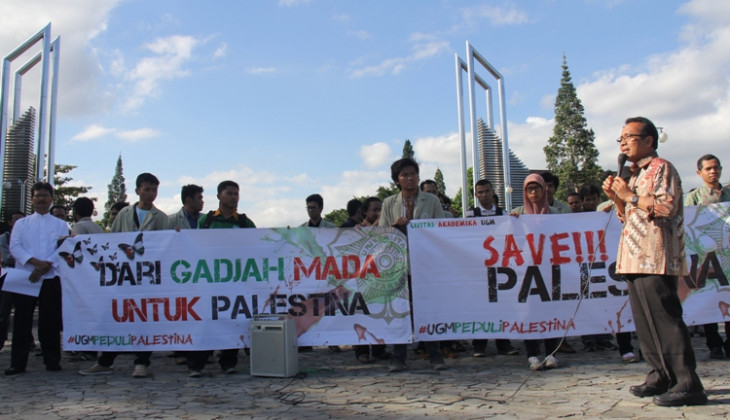 UGM urged the government to help secure peace between Palestine and Israel and recognise Palestinian independence by urging the UN to resolve the conflict. The government is also urged to give humanitarian aid to Palestinians affected by the conflict. These are a few of the declaration of the UGM academic community related to the Palestinian-Israel conflict. Rector of UGM, Prof. Dr. Pratikno, M.Soc.Sc, and other members of the university leadership came to the UGM Roundabout to witness the event.
In his remarks Pratikno said that UGM has proven itself as a populist university that upholds the values of humanity and human rights. The next Indonesian government has to take a clear stance in securing the human rights of the Palestinians.
"Indonesia has come forward as leader when mediating Palestine and Israel. We once led the Asian-African Conference," said Pratikno.
UGM also encourages and supports Indonesian diplomacy with other ASEAN countries to help peace in the Middle East. UGM also requested the UN and other international agencies to urge Israel to acknowledge Palestinian independence and stop their attacks on civilians there.
"We have to have sensitivity to human right and humanitarian abuses, don't keep quiet," said Pratikno.
Afterwards, the Rector and the rest signed the declaration that supports peace between Palestine and Israel.