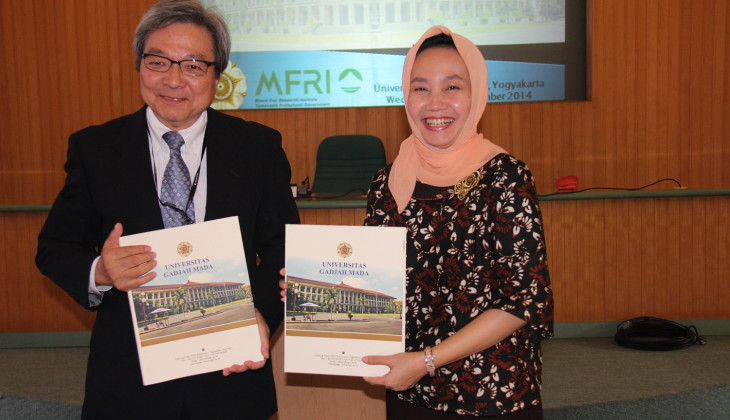 Amidst the 8th Cities on Volcanoes international conference (CoV8) that is currently held in Yogyakarta, Universitas Gadjah Mada and Mount Fuji Research Institute (MFRI) have agreed on transfer knowledge through academic and research exchange. An MoU is signed between Prof. Ir. Dwikorita Karnawati, M.Sc., M.Sc, UGM Vice Rector for Cooperation and Alumni, and President Director of FMRI, Dr. Toshitsugu Fujii, Dr.Sc, at UGM on Wednesday (10/9). Programmes will be conducted through seminar, workshop, symposium, etc.

"We have to acknowledge our shortcomings and we have to acknowledge the progress of science and technology in Japan. This cooperation is a strategy to keep up-to-date with that progress," said Dwikorita.

The cooperation serves to sustain the environment and human beings. Learning from the Mt. Merapi eruptions in Yogyakarta, Dwikorita said we still need to learn the volcanic behaviours of Merapi.

"We have to explore the knowledge on Merapi. People empowerment during disaster was considered successful. Even so, we don't know to where the (next possible) eruption will go, thus, through this cooperation the unknown knowledge can be minimised," she explained.

Toshitsugu said the MFRI was doing research and monitoring Mt. Fuji as Japan's biggest volcano. Education and communication is disseminated on Mt. Fuji developments.

"Conservation is undergoing on Mount Fuji as a symbol and heritage of Japan. This cooperation is a way to jointly make research achievements on Mt. Fuji and Merapi as well," he concluded.