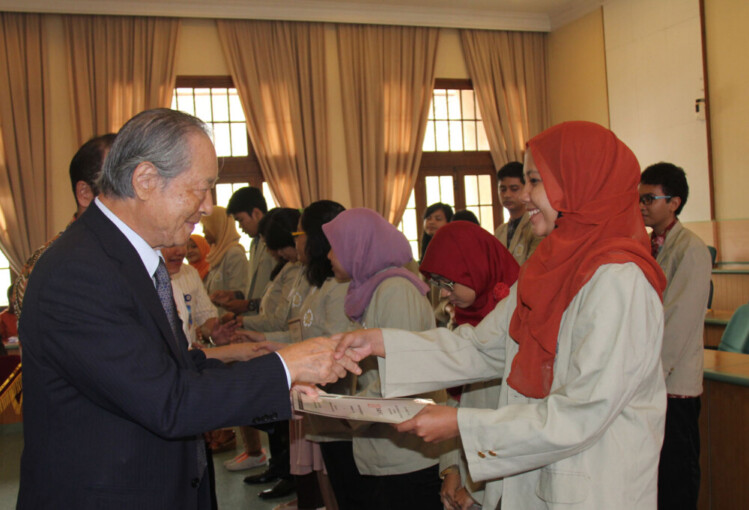 The Bank of Tokyo-Mitsubishi UFJ Foundation has awarded scholarships for UGM students once again. Exactly 16 students in the undergraduate level have received the scholarships.
Chairman of the Bank of Tokyo-Mitsubishi UFJ Foundation, Shigemitsu Miki, presented certificates of sholarship to them on Tuesday (14/10) at the Multimedia Room, UGM Main Office, witnessed by Vice Rector for Cooperation and Alumni, Prof. Ir. Dwikorita Karnawati, M.Sc., Ph.D, Student Affairs Director, Drs. Senawi, M.P., as well as General Manager of Bank of Tokyo Mitshubisi UFJ Jakarta branch, Yusuke Katsuta.
Prof. Dwikorita said UGM appreciated The Bank of Tokyo-Mitsubishi UFJ Foundation that has dedicated itself to education through scholarship for students of UGM that is very beneficial to supporting the student's learning.
"The scholarships are very important to support the smooth process of study for the students," she said in her remarks.
Mr. Shigemitsu Miki said the scholarships were a form of corporate contribution to enhancing human resource, particularly Indonesian young generation. He expected the scholarships would be able to bring students to success in the future.
"These scholarships have been awarded to UGM students since 1984 and these will be given continuously. I hope they can motivate the students to have a bright future," he expressed his hope.