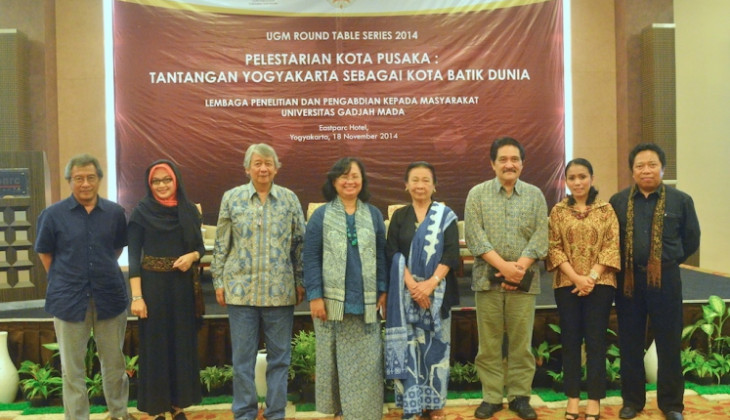 As part of Universitas Gadjah Mada's 65th anniversary celebration, the Institute for Research and Community Service (LPPM) and UGM Press were hosting the UGM Round Table Series with the theme Preservation of Heritage City: Yogyakarta's Challenge as World Batik City on Tuesday (18/11) in Eastparc Hotel. UGM Round Table Series is a discussion forum among experts that discuss a certain theme to contribute a solution to policy makers, shareholders, etc.

Anniversary Committee Chairman as well as Director of UGM Press, Prof. Dr Harno Dwi Pranowo, said the new status as World Batik City poses challenges on how to unite society, government, academics, and industry to support this status.

"(We) introduce the techniques and culture of batik whilst enlivening batik and society, that's the challenge facing batik preservation," said Prof. Harno.

Other speakers were Dra. Ir. Larasati Suliantoro Sulaiman;, Robby Kusumaharta; Prieyo Pratomo; and Ir. Endi Subijono, moderated by Dr. Sita T Adhisakti.

As is known, Indonesian batik has been named by the UNESCO as World Intangible Heritage since 2 October 2009. On 8 October 2014, Yogyakarta was named as World Batik City by World Crafts Council in Dongyang, China.