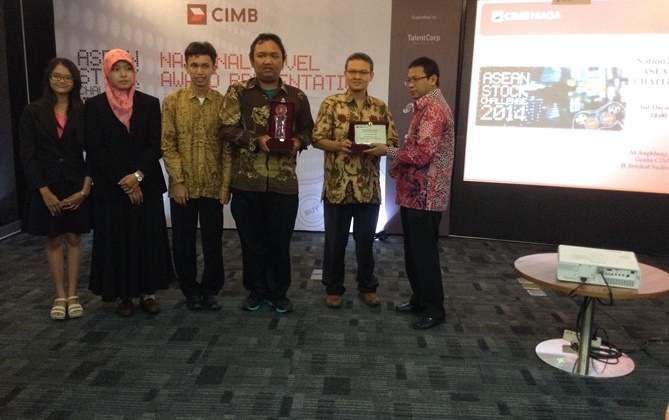 The Faculty of Economics and Business team from UGM has became the runner-up in Indonesia for the regional stock competition, ASEAN Stock Challenge 2014, organised by CIMB Niaga, on 3 December 2014.

The team consists of Ratna Utami, Faiz Deja, Afil Devita, and Fuad Azhar, and supervised by Nazrul Effendy, Ph.D.
According to team chairman, Fuad Azhar, the ASEAN Stock Challenge 2014 competition by CIMB is a regional stock trading competition, joined by students from Malaysia, Indonesia, Singapore, Thailand, and Cambodia.

"We hope they can attain knowledge and experience from stock trading in four major ASEAN stock markets," said Fuad on Tuesday (9/12).

Fuad further explained the ASEAN Stock Challenge CIMB is to provide new knowledge and experience to Indonesians to understand the stock market industry as currently only less than 5% of Indonesians know the industry. CIMB Niaga hopes students will be able to spread the knowledge in stock market industry to all Indonesians.

"This is important, moreover the ASEAN Economy Community (AEC) will create a new economic atmosphere in all member countries of ASEAN," he concluded.