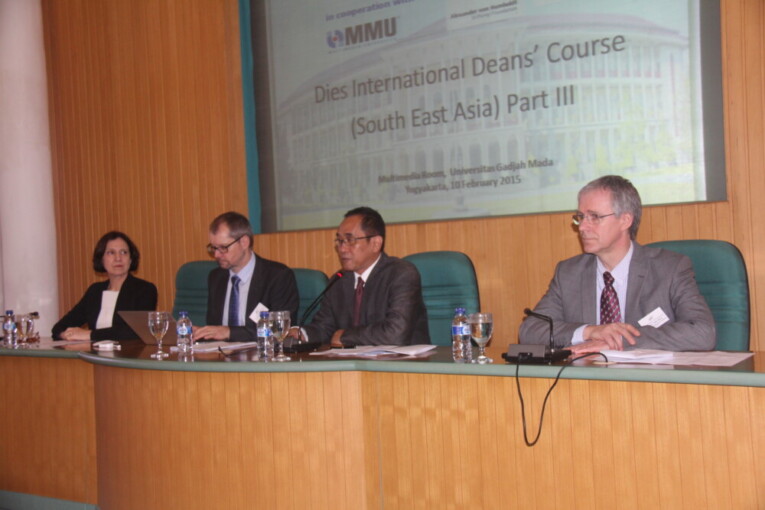 YOGYAKARTA – As many as 20 deans from South East Asian universities join a dean's course programme for university governance facilitated by the Deutscher Akademischer Austausch Dienst (DAAD) at Universitas Gadjah Mada on Tuesday (10/2). It is expected to produce a common concept in world class higher learning governance as well as increase managerial capacities of the deans.
UGM Vice-Rector for Cooperation and Alumni, Dr. Paripurna, S.H, M.Hum., LLM., said the dean's course was to also open bigger cooperations between the South East Asian universities. "UGM initiates to open collaborations in education and research," said Paripurna.
Among those attending are from Malaysia Science University, Laos National University, Myanmar Maritime University, Vietnam Banking Academy, University of Philippines Manila, De La Salle University, Nong Lam University, Khon Kaen University, Srinakharinwirot University, Vietnam National University, also ITS and universities in Yogyakarta.
Director of DAAD for Jakarta branch, Dr. Irene Jansen, said the training was to support internationalisation development in education. Meanwhile, Dr. Christian Berthold, CHE Consult GmbH, said the success of higher learning was determined by the ability to draft policies, acceptability, and education product output. Universities all over the world, however, shared the same problem in education funding resources. He also touched upon the trend in the world to have international standard education.