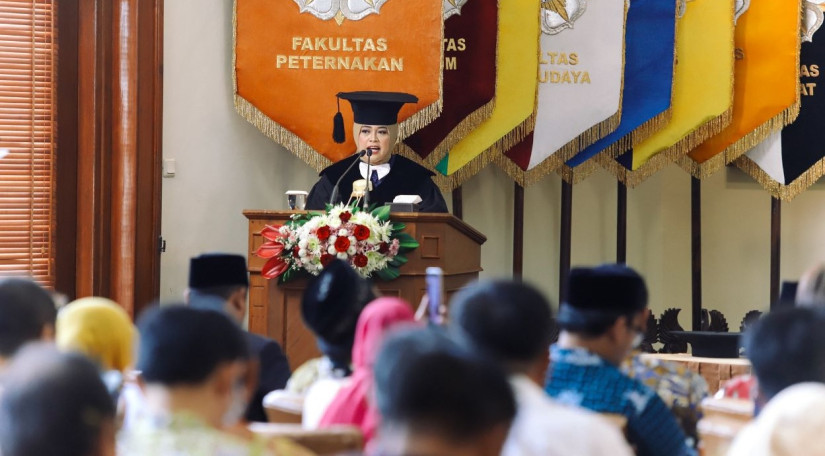 Developing superior and adaptive feed plant varieties to Indonesia's climate and soil conditions is crucial to supporting the country's livestock.
One such effort is undertaken by researchers from the UGM Faculty of Animal Science, led by the newly appointed professor, Dr. Nafiatul Umami, who have successfully developed the Gama Umami grass (Pennisetum purpureum cv. GU). 
This variety results from a mutation of Napier grass (Pennisetum purpureum) that has been irradiated with gamma rays. Gama Umami is suitable for livestock and has the advantage of higher production than local Napier grass, with six harvests per year.
"Our research has produced grass biomass with higher sugar content," she explained during her inaugural speech as a professor titled "Biotechnology Innovation in Livestock Feed Development in Indonesia," held on Tuesday (8/8) at UGM Senate Hall.
Dr. Umami conveyed that livestock feed development through technology-based innovation was to address several deficiencies in tropical grasses. 
Some of these include the fact that the propagation of certain grasses can only be done vegetatively due to the absence of seeds, the reproductive nature through apomixis (asexual reproduction in plants that produce seeds), and variations in ploidy levels (chromosome sets) within species. 
Vegetative propagation of tropical grasses has limitations; thus, it requires attention as the genetic variation in tropical grasses reduces. 
Furthermore, limitations in mass production may occur since vegetative propagation takes longer and requires more intensive efforts to produce many plants.
"Because of this, it is difficult to use conventional breeding techniques through crossing, which requires special strategies and a combination of several breeding methods," she explained.
The professor stated that mutation with gamma rays can cause changes in plant phenotype characteristics, such as shape, color, size, or other traits. Some mutations that result from this can increase productivity, disease resistance, or adaptation to specific environmental conditions.
"This grass is the result of gamma-ray radiation with a dose of 100 Gy," she revealed.
Gama Umami has several advantages, including green biomass production reaching 50 kg/m2. Additionally, it has very few bristles, so it doesn't cause itching and fine leaves that don't harm livestock. Its sugar content is higher than its parent grass as well.
The UGM Faculty of Animal Science conducted this research with a team from BATAN-BRIN. Gama Umami has received a registration mark for breeding grass from the Center for Plant Variety Protection and Agricultural Licensing of the Indonesian Ministry of Agriculture with registration mark No. 889/PVHP/2020 in 2021.
UGM's research team is also conducting colchicine studies on pasture grasses, namely Chloris gayana and Cenchrus ciliaris, aiming at boosting their productivity. 
Furthermore, Dr. Umami and her team introduced superior feed plants in collaboration with New Zealand's Crop Mark Seed, with permission to import excellent livestock feed plant seeds from the Indonesian Ministry of Agriculture. 
Testing has also been conducted on other species, namely Cichorium intybus and Brassica rapa. 
"The results show that these plants can grow well in Indonesia," she explained.
Dr. Umami stated that the presence of these superior plants adds to Indonesia's feed plant germplasm. This will contribute to future plant breeding materials.
Gama Umami is one of the thousands of research discoveries by UGM researchers. Various research efforts have been and are being carried out by UGM researchers in a variety of domains to increase scientific understanding and address societal challenges. 
One of UGM's initiatives to promote the Sustainable Development Goals (SDGs) for a better future is to provide advantages through research activities.
Author: Ika
Photographer: Donnie