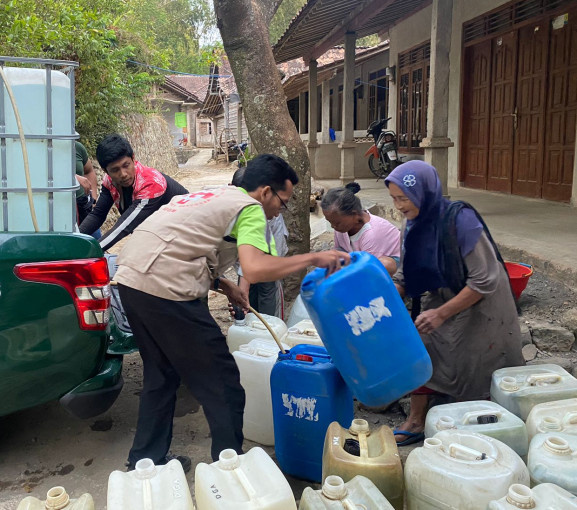 UGM has provided 14,000 liters of clean water assistance to residents who are experiencing difficulties accessing clean water in Magelang on Sunday (September 24). 
The distribution of clean water assistance was carried out by the UGM Gelanggang Emergency Response (GER) and Menwa in collaboration with the FPRB Borobudur volunteers.
GER Coordinator Muhammad Fauzan Firdaus explained that the distribution of clean water was for residents in two villages, namely Karanganyar Borobudur Village and Butuh Candirejo Borobudur Village.
"This distribution is our response to the phenomenon of water scarcity that many residents are experiencing due to the prolonged drought," he said on Monday (September 25).
The coordinator stated that this year's prolonged drought has led to the drying up of water sources for residents. Therefore, providing clean water is essential to meet their daily needs.
The clean water assistance to 140 households in the two villages is expected to help these residents.
Firdaus mentioned that before distributing clean water to residents, they had coordinated with volunteers the day before. This coordination was done to map the areas that had not yet received it.
"We carried out the distribution in the Karanganyar Village and Butuh Candirejo Village at the request of the residents because they had not received any distribution and were completely out of clean water," he explained.
Author: Ika
Photo: GER UGM Documentation