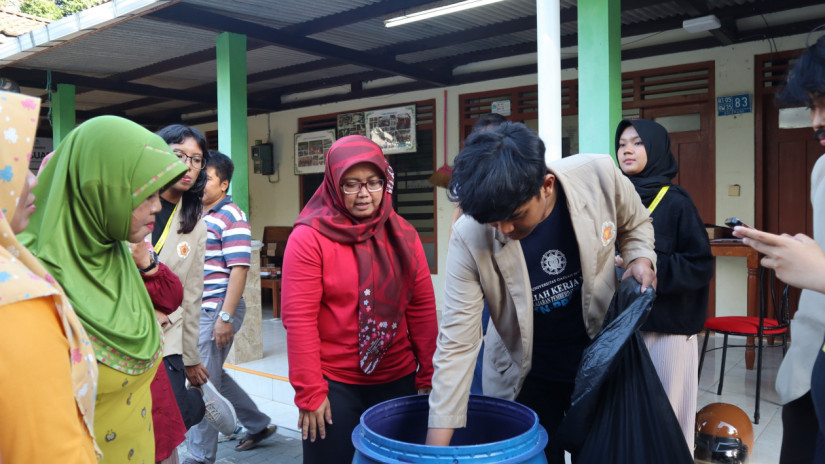 UGM students taking the Community Service Program (KKN-PPM) in Ngemplak District, Sleman Regency, have initiated the "Trash Revolution Movement" to respond to the ongoing waste emergency in Yogyakarta.
The Trash Revolution program is intended for the Yogyakarta community. However, for the program's initial implementation, the team conducted the program in two villages in Sleman Regency, namely the Widodomartani and Wedomartani Villages in Ngemplak District.
A video program on the Trash Revolution was created at the 3R Waste Processing Site (Reduce-Reuse-Recycle) and crafted into a story to raise awareness about the importance of caring for waste.
Trash doesn't just disappear when it's thrown away and collected by waste collectors. Therefore, the community needs to understand the potential dangers and challenges related to waste, especially considering recent fires in Bandung. 
The Trash Revolution Movement involves composting activities and collaboration with environmental agencies regarding waste separation, facilities provision, and waste collection. 
The primary goal is to mobilize organizations to engage communities in Widodomartani and Wedomartani Villages to manage waste together, illustrated in a video campaign.
Other parties can initiate collaboration for further processing once the waste is separated into organic and inorganic categories. Inorganic waste can be managed in partnership with waste banks, while organic waste can be processed into compost, such as through composters, using various methods. 
Organic waste decomposes more quickly because organisms break it down, but it must be separated from inorganic waste like plastic. If organic waste is trapped inside plastic, it will increase the volume of waste that is difficult to sort and can cause odors. 
Organic waste can also be used as maggot feed, and the maggots can, in turn, be used as animal feed because they are rich in protein.
The waste issue has always been an unsolved problem because waste management from the source to the final disposal is unclear. It starts with waste not being separated at the source, which leads to mixed waste that is challenging to manage and causes odors. 
The Field Supervisor for the Ngempak unit, Dr. Rarastoeti Pratiwi, encouraged her students to separate waste to simplify downstream management. She explained that the waste problem at the source is related to the awareness of the community. 
This means that the waste issue begins with littering on the streets, leading to mixed waste that is challenging to manage and causing odors.
Dr. Pratiwi appreciated movements that pay attention to the waste emergency, such as Sonjo (Sambatan Jogja). They shared various methods for managing organic and inorganic waste during their activities. 
This movement has created a WhatsApp group with nearly 500 members, consisting of academics, 3R waste processing site workers, bureaucrats, and village heads. 
Raising awareness about waste through social media platforms like Instagram is essential to reach young people and make them more aware of the issue.
"I have experience living abroad, and several countries have already implemented waste separation. Even in Japan in the 1990s, if I didn't separate my waste, it wouldn't be collected by waste collectors," Dr. Pratiwi said.
"Malaysia also has a waste separation schedule, and Singapore is even stricter. Indonesia is not yet capable of waste separation, so the Trash Revolution is being introduced as a civilized step toward becoming a developed country by 2050."
Author: Rifai