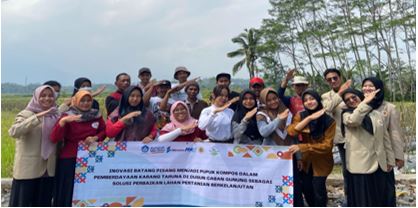 Universitas Gadjah Mada (UGM) students have developed a concept for processing banana stem waste into compost that local farmers can utilize. 
In collaboration with the local youth group, this program serves as a form of community service by UGM students in Caban Gunung, Magelang, Central Java.
Five students leading the initiative were Indah Isnaeni Hidayati, Ulin Nuha Diah Wulandari, Galih Raka Siwi (Agricultural Extension and Communication 2021), Triya Prasasti (Agronomy 2022), and Andreleo Jean Caesar Purnama (Forestry 2022), under the guidance of Dr. Arom Figyantika.
Why banana stems? Because for the general population, banana stems are considered agricultural by-products that are no longer useful. The process includes awareness-raising, practical training, and program monitoring from August to October 2023.
Indah Isnaeni Hidayati stated that many farmers in various regions often leave banana stems as waste after harvesting bananas. Even though banana trees are easy to cultivate, many non-productive banana trees are left to die and rot.
"The amount of banana stem waste in Caban Gunung is very significant, but it is usually left to rot," said team leader Hidayati on Thursday (September 21).
She finds this situation regrettable because, in Dusun Caban, most of the population works as farmers who still rely on chemical fertilizers. Meanwhile, the abundant banana stem waste can be processed into fertilizer to meet the needs of farmers.
She explained that using chemical fertilizers in agriculture has direct effects, such as faster growth of plants and fruits compared to using compost. However, the long-term and excessive use of chemical fertilizers has a detrimental impact on soil fertility.
"On the other hand, many agricultural residues can be turned into fertilizer, including unused banana stems. They have a good nutrient content, which can be further processed," added Hidayati.
"Banana stems are rich in macro and micronutrients, as well as beneficial microorganisms for plant growth, especially after composting."
The team leader believes that processing banana stems into compost offers a solution to the banana stem waste problem in the community. Additionally, it can support the implementation of sustainable agricultural land improvement.
Involving the local youth group helps revitalize the organization, which has been considered less active. 
This collaborative compost-making activity using banana stem waste can serve as a dynamic platform for the group and a means to foster cooperation among young people in assisting the community.
"The fertilizer developed is a mixture of banana stems, animal manure, and other natural ingredients," she said.
Training programs, including awareness-raising and practical composting workshops for banana stem waste, were conducted on August 6, 2023, attended by members of the local youth group and several local farmers in Caban Gunung. 
The activities continued with training on packing and applying the compost to experimental plots.
"In the future, it is hoped that this fertilizer can be widely distributed and sold by the local youth group to support their income and promote the use of organic fertilizers to improve agricultural land," she concluded.
Author: Agung Nugroho